There's a fancy smanshy Art Museum in Atlanta known as the High Museum.
Home Page
Beautiful place.
I love museums.
I know, I know, I'm sure Colorado is pissed that the name is taken.
Anyway, my 10 year old grandson, Lucian "Bear" Mattiace (pronounced, luckily, like the artist "Matisse") had his painting, "Drip", selected for display as part of the student art initiative in the Atlanta area.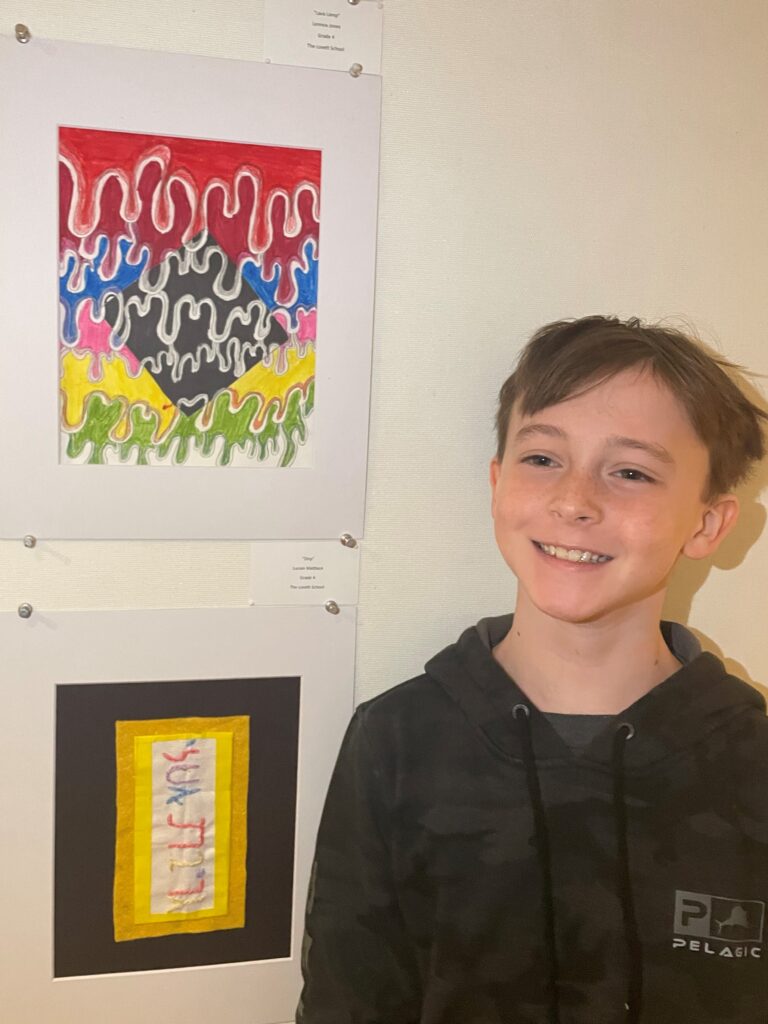 That's the handsome fellow and his painting. Shit, if I were that good looking as a 10 year old , I would have made a killing. I sure would have tried.
And here's a closeup of the title card.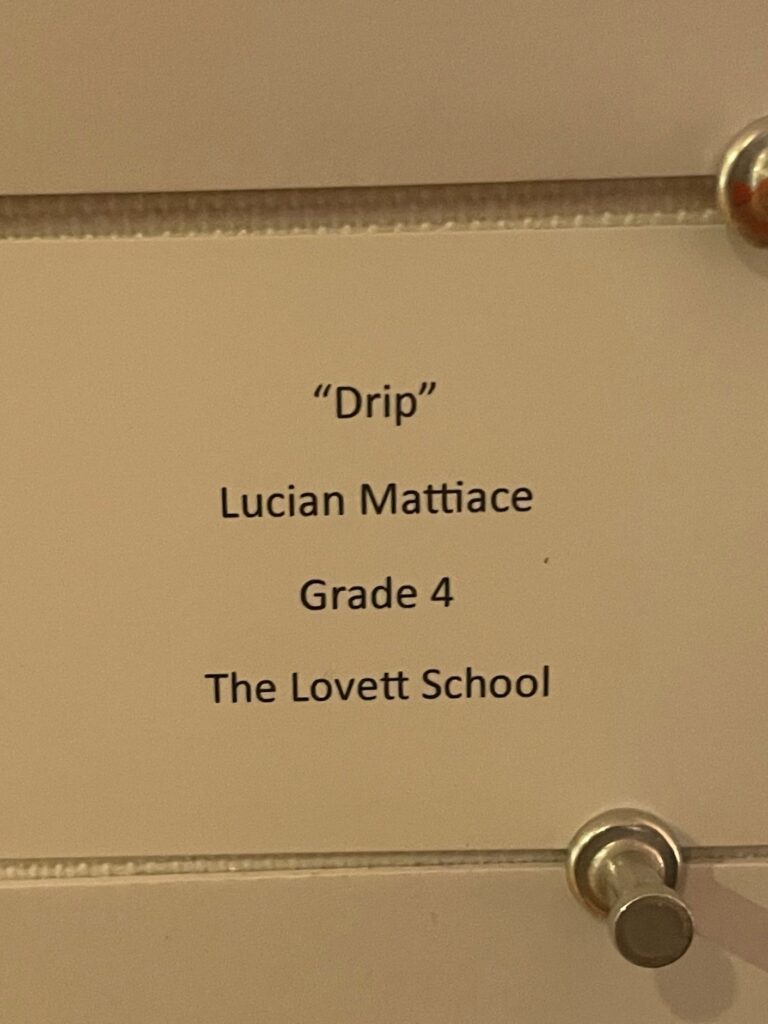 Here's my daughter, Jackie, her boy Lucian, and her husband Zack Gilbert, attending the event.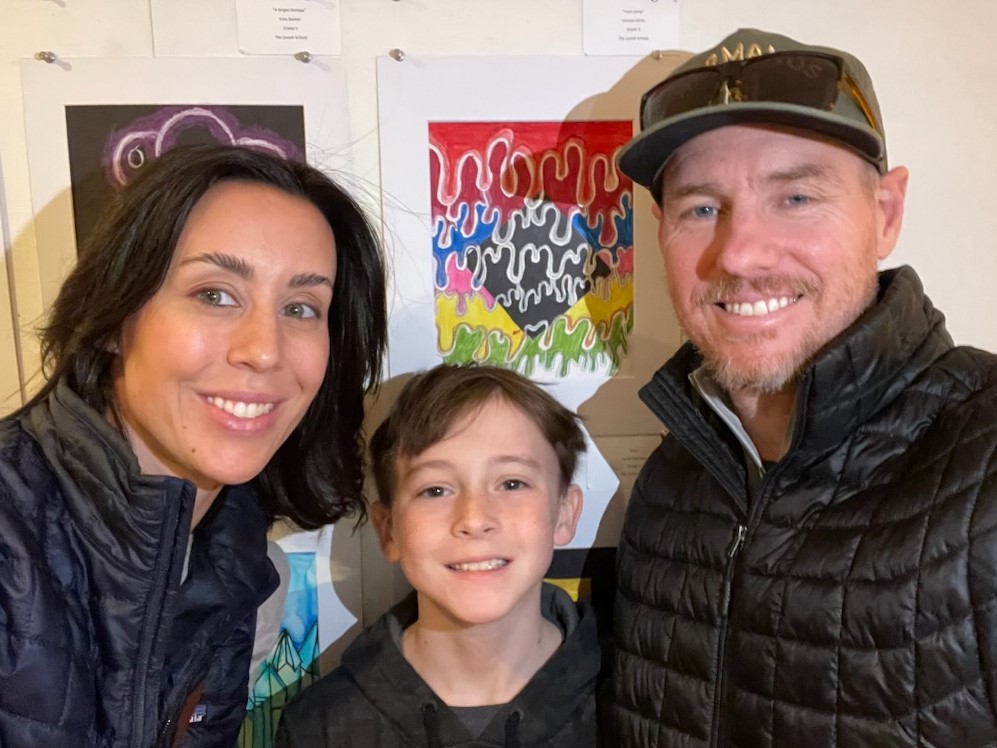 Jackie is very successful. It was a pleasure watching her grow up.
Yes, Zack does look like he has some elven blood in his veins. That's a good thing. Lisa and I love Zack.
Now of course I am an openly biased and proud father and grandfather.
I love all of my children and their children, equally. I've often posted here about my lovely 1/2 Australian granddaughters. You have all heard me go on about my oldest son, Luke, the writer, and my youngest son, Mark, the NYPD cop and bee keeper, and their lovely spouses, Georgie (model) and Sara (NYPD Blue Blood cop), respectively. I get excited every time any one of them takes on a new challenge and even more excited if they master it. Because – win or lose – every experience they are exposed to goes into the mix of who they are. Helps make them a more complete person. The wins make them more interesting. Their losses make them more resilient. The point I'm trying to make, badly, is that you want to teach them to try. Never quit before you start.
And Lucian is my only grandson (as of now) and is my oldest grandchild, so I've had a chance to watch him grow a bit, longer than the others.
I've watched him dance (ballet, jazz and hip-hop), play violin (like my Dad), climb rock walls like a spider monkey and study Brazilian Ju-Jitsu. Now art.
Jackie and Zack are giving Lucian every opportunity to explore what works for him. And, no experience is wasted.
I am very proud of Lucian's accomplishments.
I'm even proud of his failures. You can't win them all.
However, each time he steps up to try something new, he becomes Teddy Roosevelt's Man in the Arena.
And as with anyone willing to give something new or difficult a shot, I will always respect them for that, no matter what the outcome.
Raising kids is a lot of work if you are in it for the right reasons.
Lisa and I put a lot of time into being parents. We put them before our own careers and, sometimes, each other. And we didn't always get it right. But sometimes we did.
And we had the help of our families from the jump. It takes a Clan. For those of you out there that don't have kids, you have neices, nephews, children of your friends. Your imprint counts, and speaking from my own experience, I was always happy for the help. My legacy's success and glory is yours as well. They carry you in their hearts. You are forever part of their back story.
I had a lot of surrogate parents growing up. They have all left their imprint in who I am today.
Even if you are in it for the wrong reasons, it's okay, as long as you give the kid all the love you have and every opportunity you can. Don't be selfish. Because it's the kid that matters. You need to give them their shot at life.
Each new generation of a family becomes the legacy of the prior generations.
Sometimes they get to bask in your glory. Sometimes they have to clean up your shit. And vice-a-versa.
And when it is all said and done, and this body has turned to dust, it will be the living that matters. The Legacy.
So, well done Lucian Bear on having Drip displayed in the High Museum. Nona and The Dude are very proud of your latest accomplishment. And we love you dearly.
Keep getting in that arena.
Well, now I have to earn my daily bread.
First a kitty cuddle, my rounds and the dreadmill.
But it's Tuesday, so, whether it knows it or not, the week is ours.
You fine, five readers get out there into your arenas.
And make today a great one.