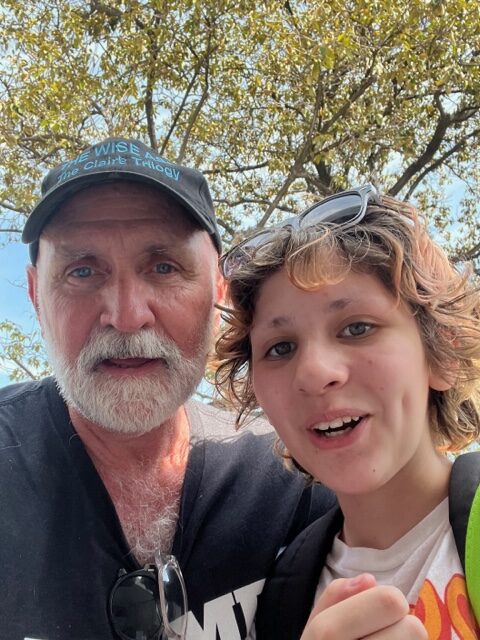 I had an amazing weekend. Exhausting but amazing.
I stayed in this incredible historic LA Hotel.
reservations.com/hotel/millennium-biltmore-hotel-los-angeles?rmcid=rcc4&msclkid=ce2f7c680b6e1b346853182fa51b0c84&utm_source=bing&utm_medium=cpc&utm_campaign=Top%20Hotels&utm_term=Millennium%20Biltmore%20Hotel&utm_content=Millennium%20Biltmore%20Hotel%20Los%20Angeles_1746915
https://en.wikipedia.org/wiki/Millennium_Biltmore_Hotel
Thank you Jarelly
Helen and I had a few road trip adventures finding our way through the many layers of neighborhoods in LA.
I was blessed by having this really cool magazine – LA Voyages – post an interview.
http://voyagela.com/interview/conversations-with-tom-mccaffrey/
Got to meet my psychic sibling, Christy Cooper Burnett, and Mychael and Jerelly. We had a blast working the crowd.
Met so many cool undergrads and other visitors.
But the absolute highlight of the weekend, indeed, of my life as a writer, wwas whn I got to meet Jasper. My now favorite reader.
Quick recount – I'm standing by the booth talking to Jessica Hemingway – no, I'm not making that name up (all part of the magic in my life) –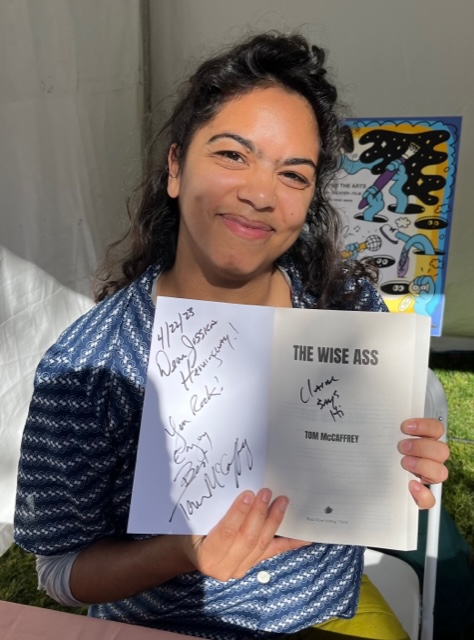 Jessica is the liaison for a wonderful children's art program in LA.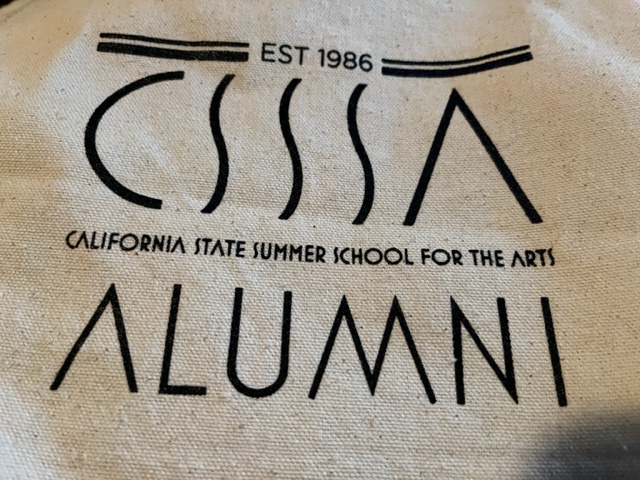 and suddenly, from behind me, comes this young woman's voice shouting "Tom McCaffrey!"
I turn, wondering what to expect, fight or flight reflex firmly engaged, and this young woman rushes past me and points to TWA on the booth table, and shouts "I love his books!" She then continues to explain for all within earshot how she has read them all and is waiting for the next one.
I was so astounded that I pointed to the copy of the TWA and asked her, "Are you sure?"
(Someone had earlier confused me with Todd McCaffrey, author and Anne McCaffrey's son)
She confirmed that she was dead certain and then continued on applying compliments my dead mother would be at a loss to come up with (or would refuse to utter because the Irish must never get above themselves). Jasper spent most of that time focusing on Christy Cooper Burnett sitting behind the table.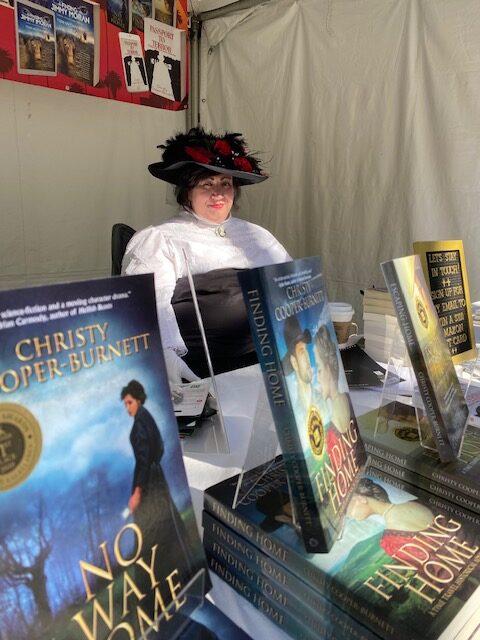 That's when Christy points to me and says, "That's Tom McCaffrey."
I thought the poor young lady would hyperventilate and faint.
I have been alive over 66 years and I have never drawn that response from anyone, especially a female.
Oh, to be Jimmy Moran.
I was so blown away I asked Jasper when she caught her breath if she could repeat some of it on camera because no one would believe it.
And the sweetheart did a wonderful job.
If I die as soon as I hit "Publish" on this blog, I will have died a very happy man. That was a dream moment that any writer would kill for. Just checked it off my bucket list.
Anyway, I gave Jasper some swag, including an inscribed hat and my email. I told her if she wants I'll send her the draft of Where The Ley Lines Meets as soon as I finish it. I thought she would faint again. But after a few more hugs she left with her entourage and a smile, and headed off along the boulevard.
But the cherry on this ice cream was that, at the end of the day, Mel, who was working a few booths away, came by to tell me of her encounter with Jasper, who was still recovering from our earlier encounter. Mel was a little worried that she might be suffering from the heat and asked Jasper if she was all right. Jasper quickly replied "I've just had the most wonderful day of my life." She then recounted what I have just recounted, from her point of view.
It doesn't get any better than this. Thank you Jasper. I want you to know that I feel the same way.
So use that email young lady.
I also met so many nice people, like Tania, the Spanish Poet. Good luck with your book.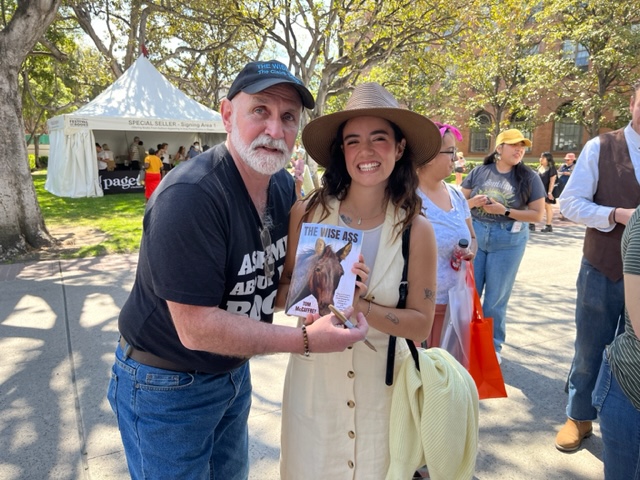 And Michael, the screenwriter. He's got some pretty impressive credits.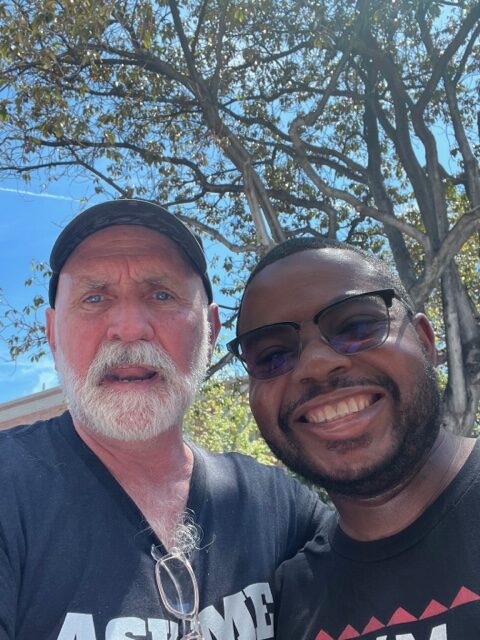 and some cute young ladies who were kind enough to rock the TWA Hat.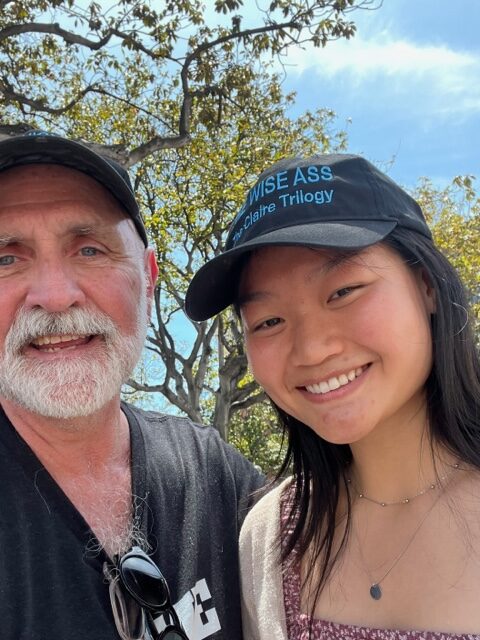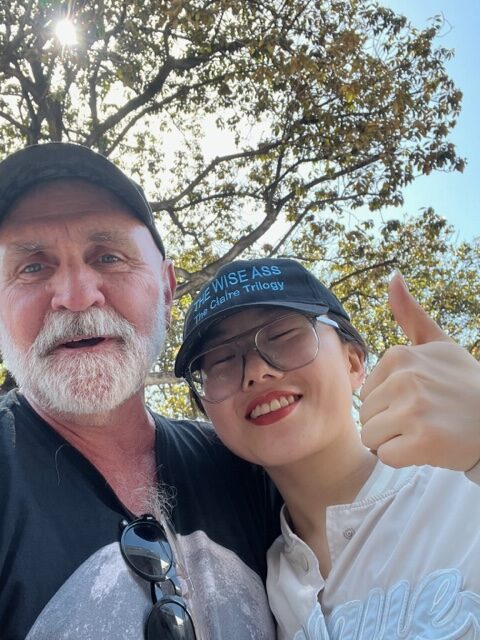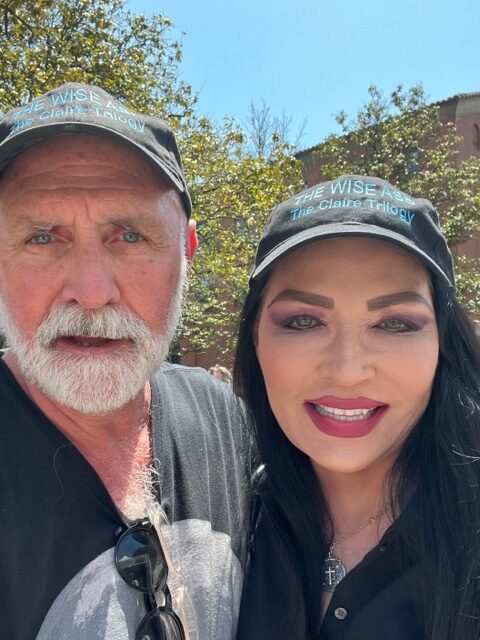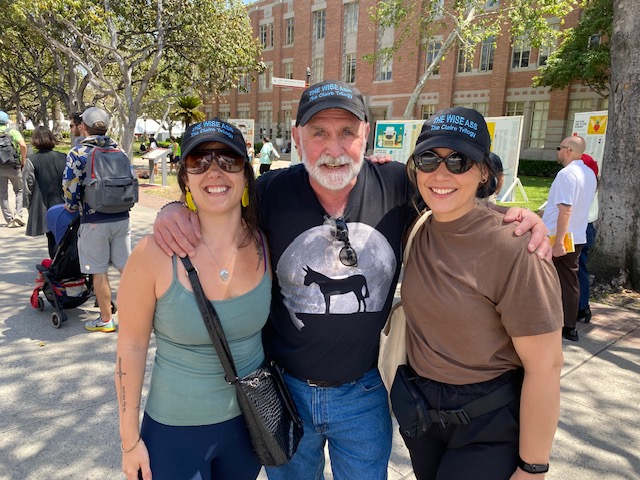 These last two are ex-pat Bostonians.
Jimmy Moran, eat your heart out!
And after two wonderful days of getting my face out there, Helen and I ended the weekend with a wonderful meal with some friends, who I will not name.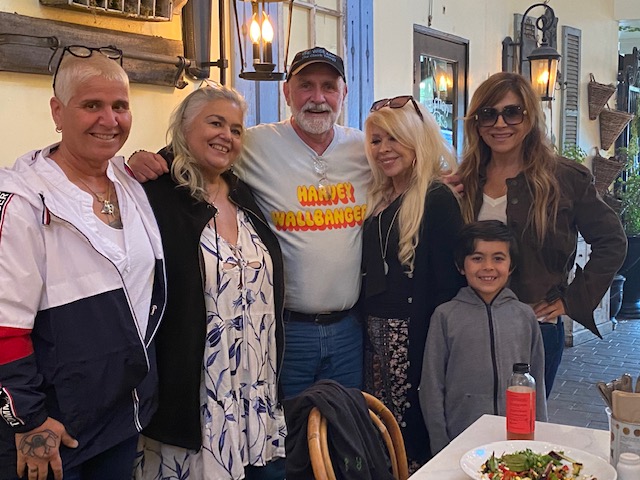 Well, except Helen on the far left.
So, sadly, I packed up yesterday and allowed Helen to lead me back to LAX, where we hugged and parted, and I found my way back home.
But I wil be back. I have movies I want to see made.
And that is my Intention.
Oh, and when I arrived back home, FJM was back on top.
But for now, it's back to the daily grind.
I have a kitty to cuddle, rounds to make and that infernal dreadmill waiting to punish me for the LA excess.
Then my day job.
But it is Tuesday, so that's a plus.
You fine, five readers continue to wear down this week.
Friday awaits.
But most of all, make today a great one.