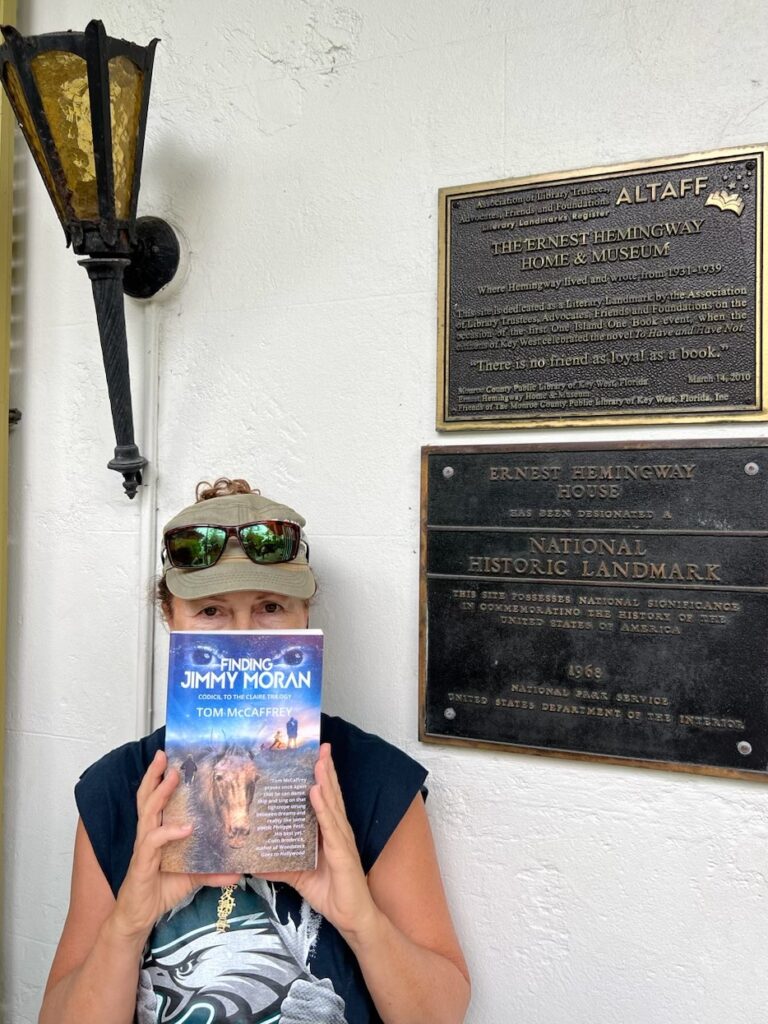 Carl Jung coined the term "Synchronicity" to describe seemingly random, coincidental events that are somehow connected by a common thread.
I'm a big believer in synchronicity. My life has been nothing, if not synchronistic.
My common thread is luck and magic. I've been blessed with both.
Now that young lady above is Anna Hillman, a dear friend and one of my inner circle of readers.
I met Anna through my BFF Helen LaLousis (from TCT). Anna was introduced to TCT by Helen and she enjoyed the books. Helen then made the introduction.
Anna, a Key West Conch, was kind enough to take a set of TCT down to Ernest Hemingway's Key West Home to imbue it with some of the great one's mojo. EH had his demons but he was a brilliant writer. The Sun Also Rises is one of my favorites.
Not for nothing, once Anna worked her magic, The Claire Trilogy took off. Coincidence?
Anna also showed a deep understanding of the nuances to the Trilogy, so when I was starting to write Finding Jimmy Moran, I invited her to join the inner circle and read along as I wrote it. It's an all female inner circle because women have amazing memories, pay attention to detail, keep their commitments, and won't accept being bullshitted. I know this because I've been married forever to the woman who provided the basis for the character Gina. Love you Lisa.
Anyway, Anna joined Eileen C and Yvette B (and also Anne R, Eileen's sister), three other women who don't take any bullshit, I mean that literally, they gave me such shit, which I enjoyed immensely. They read along and provided their running comments in real time on narrative, character development, language choices and consistency with the TCT story and characters. I couldn't slide anything past them. Couldn't cheat. Women make me work. Hard. And I like that.
Even Claire, my female magical mule, makes me work everyday, in exchange for the story she has shared with me.
Women are my primary demographic. Easily 90% of my readers. Guys are easy. They like the action, drinking, fighting, crime, off-colored humor and even the sex, so I gave it to them. Just make them laugh and a little horny and they'll keep coming back. But women demand more from me. They want a compelling story. They want to connect with the characters on a deeper level and become emotionally invested in their books. I like to rise to the occassion.
When FJM was finished, and the women signed off, I knew I had something special. I got to tell a love story that included characters based on my family, dear friends and old flames from my youth – it's all fiction – with my tongue firmly planted in cheek, in a way that women enjoyed.
So, when Anna took her author's copy of FJM back down to EH's home, I knew I was off to a wonderful start.
The book dropped last Thursday, on the 13th of all days, and sat as the number 1 new release on Amazon's Dark Humor list for the first five days, a record for any of my books. Coincidence? No, synchronicity.
And now I'm entering three days of a new moon cycle, which is the perfect time to launch FJM at the LA Bookfest. Again, the timing is synchronistic.
http://www.lunarabundance.com/should-you-launch-on-a-new-or-full-moon/#:~:text=A%20general%20rule%20of%20thumb%3A%20Launching%20on%20a,seeds%20and%20wait%20for%20these%20to%20bear%20fruit.
So I got my EH mojo and my New Moon candles burning. I'm pulling out all of the stops.
https://www.merriam-webster.com/words-at-play/pull-out-all-the-stops-phrase-history-pipe-organ
The LA Bookfest is going to manifest more magic. I know it. The timing is just right.
So, if any of you fine, five readers are out by the USC Campus this weekend, stop in and say hello at the LA Bookfest and visit me and Christy Cooper Burnett – of Passport to Terror fame. We're at Booth #60. And my dear friend in life and fiction, Helen LaLousis, will be there as well.
I'll sign any book or body part placed in front of me. I'll take selfies. Share free hugs. Answer any question you ask. I'll even tell a few lies.
I'll even get Christy and Helen to sign the books. Remember, Helen is a central character in TCT and I borrowed Christy's wonderful character, Madison Taylor, from PPTT, for a chapter in FJM. That is a literary first.
I'll have a few books with me, but if you have your own copies, bring them with you, I'll sign them.
Let's make some magic together.
But I have some lawyering to do between now and then, so I better get on it.
First, my kitty cuddle, my rounds and my dreadmill.
But you fine, five readers go out there and take the hill on Hump Day.
While you are on top, see if you spot the weekend in the distance.
Friday is always waving.
Most of all, whatever you do, make today a great one.