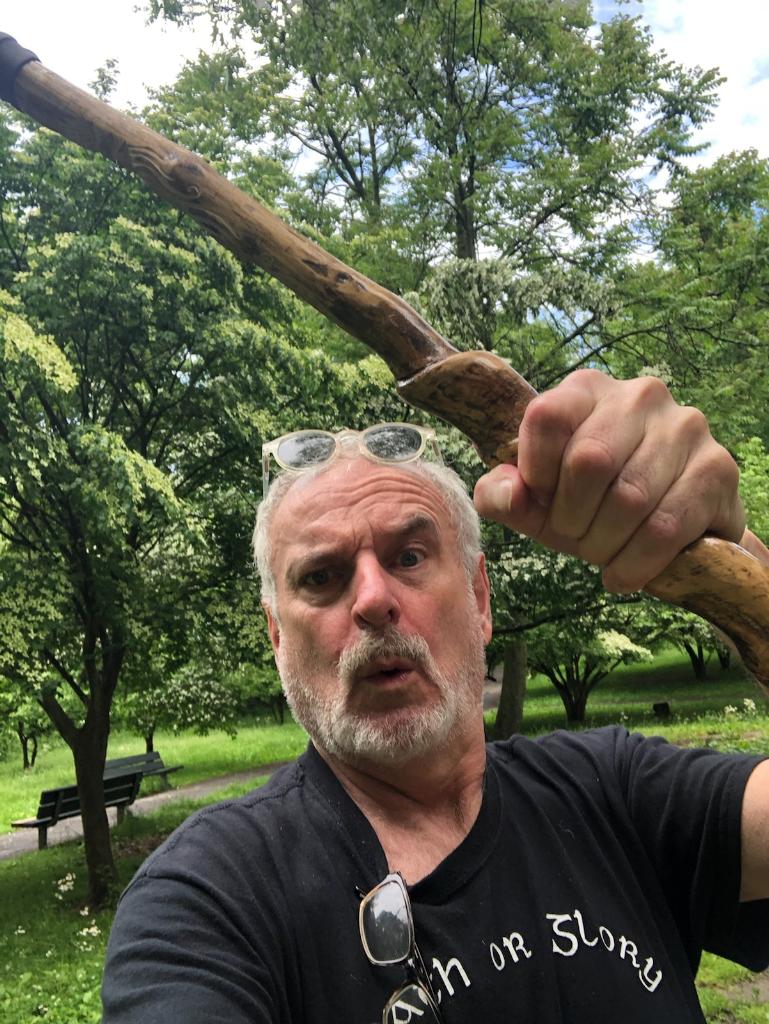 Just so you don't think that all I do is hang out with beautiful women, I've decided to make today's blog about some of my no longer beautiful male friends. I've shown you a few earlier, like BC and Joe, with their wives, who are part of the OFC and made it into my stories.
That's Mark "Lenny" Lenahan, above. Best friends since the first day of freshman year at Cardinal Spellman High School. Based the US Marshall character in The Claire Trilogy on him. Based the character "JC" in FJM on him as well. We've had some fun times in the past. Funny as fuck. He's always had my back and he knows where all the bodies are buried. He's an amazing professional Chef and the one BFF that has managed to avoid getting married. But he does like to wave his staff around. He's slowing down a bit, and could be poached, so if any of your lovely ladies out there want an introduction, I'll forward your emails to him. Thanks Lenny.
This next young fellow is Jackie Vaughan.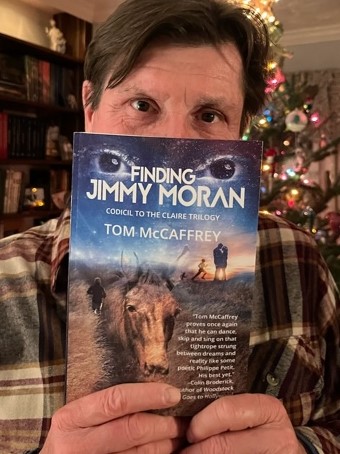 I mention him at the end of The Claire Trilogy as the Fordham Law School classmate that Jimmy turns over control of his estate to at the end of KMAG. Jackie is a partner in a major law firm. I trust the real JV just that much. Jackie also makes his appearance as Robbie Maclaren in FJM. We met back in grade school. He was my first best friend. His dad, Big Jack Vaughan, was a surrogate dad to me and one of my life long heroes. Taught me how to drive a speed boat, water ski and deep sea fish. BJV had a Jack Kennedy persona. His wife, Connie, was the first older woman I ever thought was gorgeous. What a sweetheart. I would never have been a lawyer without BJV. That story in FJM about the Carney is based upon BJV and a real event. [Lawyers note – everything else in FJM is totally fiction] BJV taught me the importance of standing up for other people. Young Jack Vaughan taught me the importance of dating pretty girls. I still want to be BJV when I grow up.
This next Old Dog is Johnny Carey.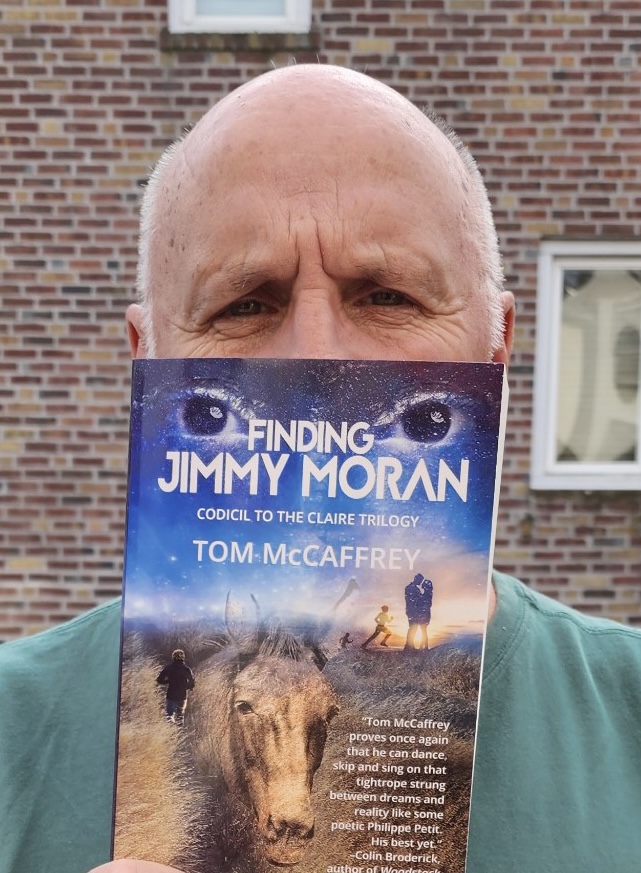 Known him since grade school. Swam on the RNH swim team together. He got me a job working the hot dog stand during summer concerts at Gaelic Park. That's how Johnny made it into FJM. Saw some great bands play there. Johnny and I became close friends during those years after we both got married. Hung out as couples with Johnny and his lovely wife, Helen. Had children around the same time. He drove Lisa and I to the hospital when Luke was being born. Of course, once he moved out to Long Island our lives followed separate paths, but we're now back in touch with each other and having a great time breaking each other's balls. Funny, I put Johnny in the book without having spoken with him in 40 years and then, a month later, he ends up standing next to my youngest brother during a phone call with me. Voila. The Universe always provides.
This next old bastard is Stein – Mike Augustyni.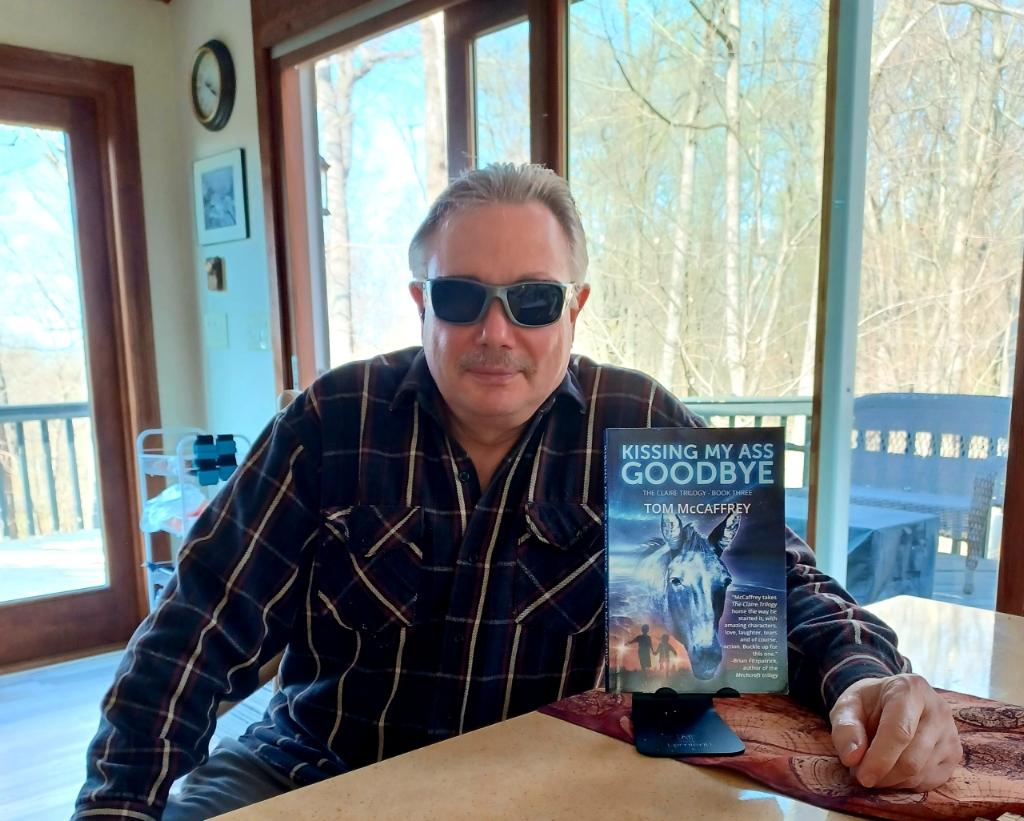 Fucker still owes me a FJM "eyes" photo. (Aside to Stein: "Hey, fuckwad, I want my "eyes" photo. Love to Delia.")
Stein is one of the OFC crew. I named one of the bad guys in KMAG after him. So he appears as Mike Austin in FJM.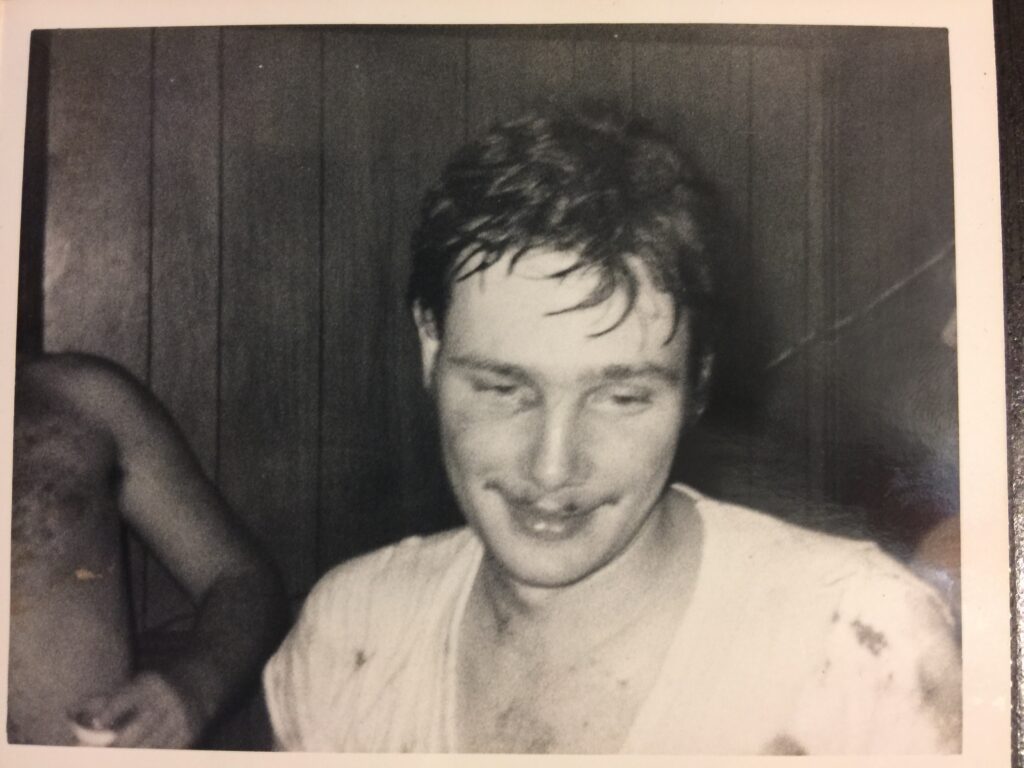 Mike back in the day back at Aunt Violet's Flop House. He, Joe and Apples had a run in with some bad guys. But they survived.
Joe and Stein were inseparable and ran the Midnight Tire Company together during our glory days. Stein has a lot of great old photos. That's 1/2 of me with Joe at our apartment in AVFH.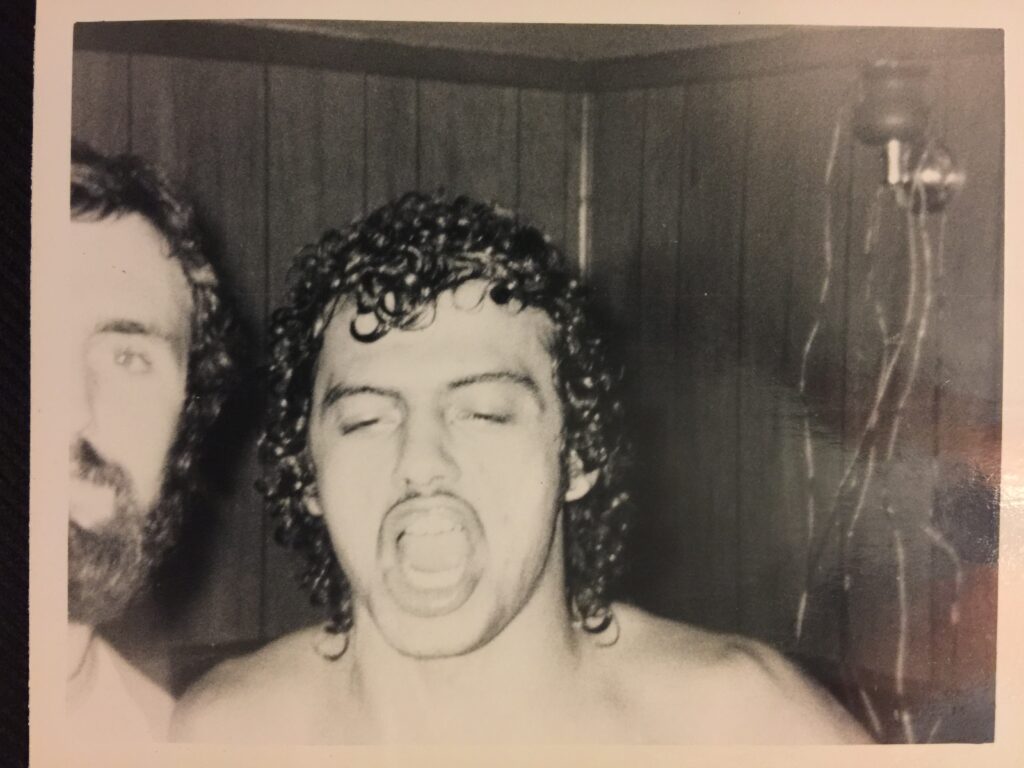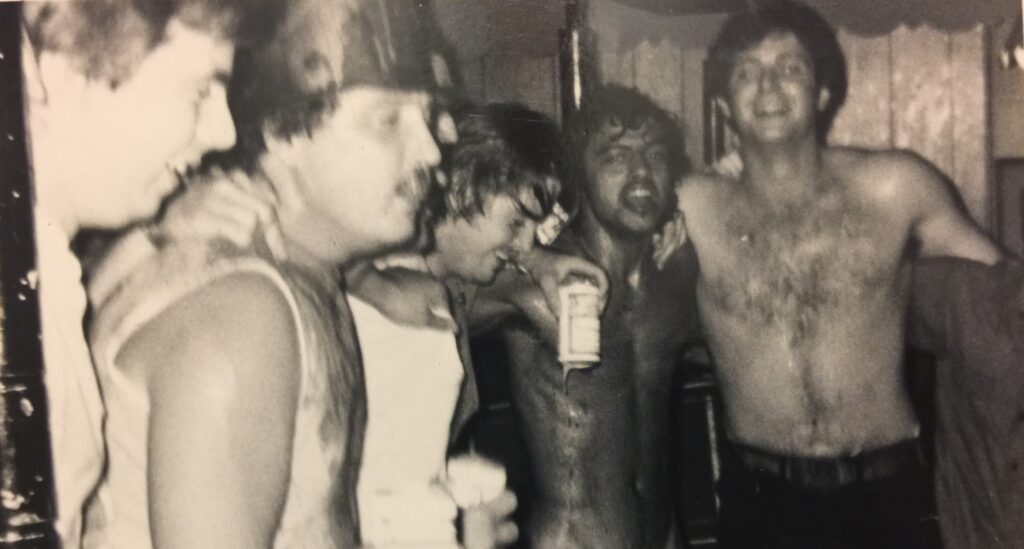 That's BC, front left and Joe, and my brother Eddie, whose totally fictious characters all make their appearance in FJM, far right. Joe liked to take his shirt off.
And since Eddie – the basis for the totally fictitious character in FJM – won't give me an "eyes" photo, I'll just have to sub in this classic.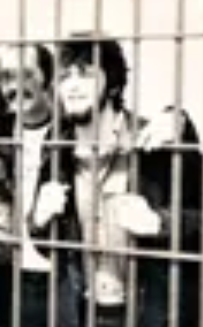 While we're on the subject, these next two make their appearance in FJM as well. Again, in a totally fictitious storyline.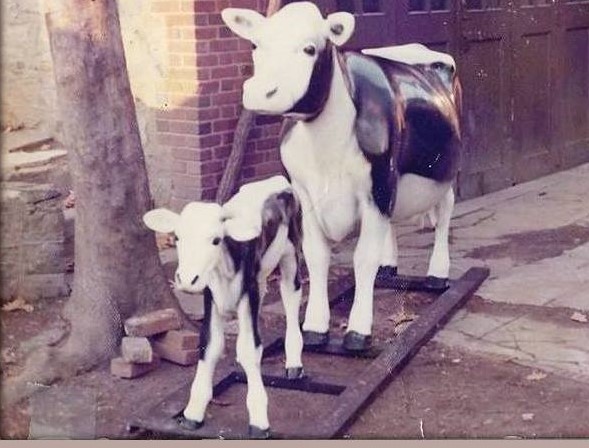 Anyway, Stein was blessed by marrying his child hood sweetheart, Delia Hecht. She is the basis for the character Delia Wolf in FJM. Great lady. That's them now.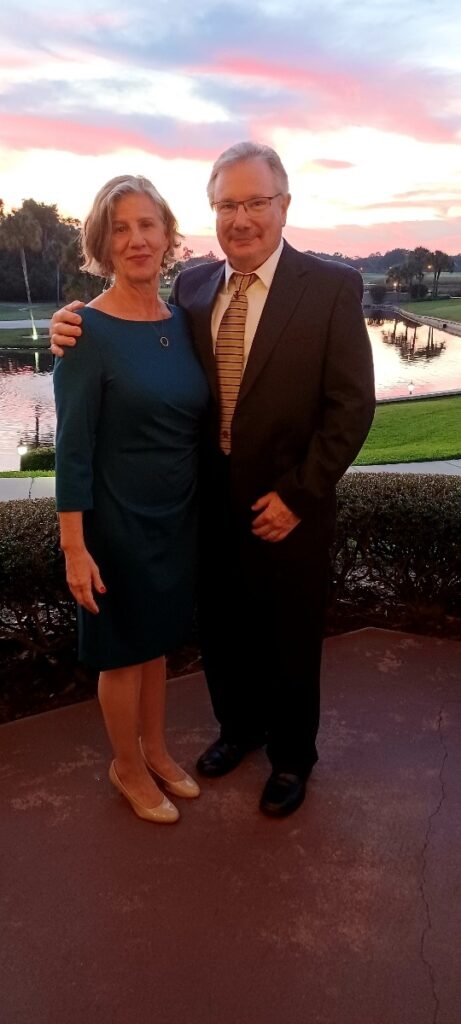 They were always great together. Still are. Well done guys.
Anyway, enough of memory lane. I need to save some stories and photos for another day.
But if you read FJM, you'll get to meet them again in totally fictitious circumstances that should give you a lot of laughs. But read The Claire Trilogy first, or you'll miss the nuances.
Well, it's Friday, so all is right with the world.
Time to cuddle my kitty, make my rounds and hit the dreadmill.
You fine, five readers know what to do.
So smile, and get out there.
But most of all, read TCT, order FJM and have a great day.