As I look back at my life as a husband, parent and professional, I wondered where the time went, how I survived it, and what kept me going.
Simple answer. Responsibilities to others.
Don't get me wrong, I completely fucked up a few times along the way. But I always heard my grandfather, Spaghetti's, voice in my head saying, "Get up ya idjit. Yer not dead yet."
So you pick yourself up, dust yourself off. Right your bicycle and start peddling again.
It is really easy to lay there if it's only you that is the only one being affected when life has knocked you on your ass.
But when you are responsible for others, you find that extra spark of motivation to say to yourself, "Get up. Fix this. Move forward."
And responsibility can keep you from getting knocked on your ass in the first place.
If you consistently have to do things for others, you are often too busy to screw up.
Which is why I love Claire and Honey.
My kids are grown, and my wife has always been self-sufficient. In fact, Lisa has often carried me. I have been her responsibility. Thank you sweetie.
In a world without fences, roadways and assholes, Claire and Honey could get by just fine. They are smart animals and tough.
But in the world we inhabit, I still need to look out for them. Or at least they let me think so.
So I do my chores, and I make sure they are fed, warm and safe. And that their shit is collected.
And that keeps me on the right path.
Shifting gears, I have a few more eyes photos for you.
First I have my SIL, the fairy-witch Dina. Youngest of the Wallen-Witch Coven.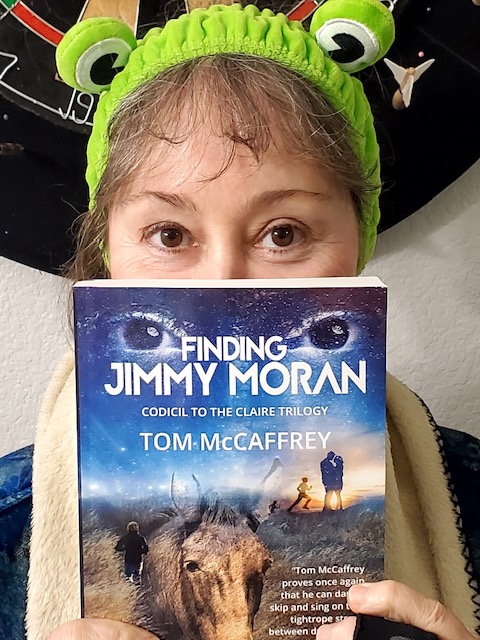 And then I have Eileen C, who not only assisted in the editing of FJM, but also appeared under her own name in KMAG, and under another name in FJM as a memorable character that breaks things.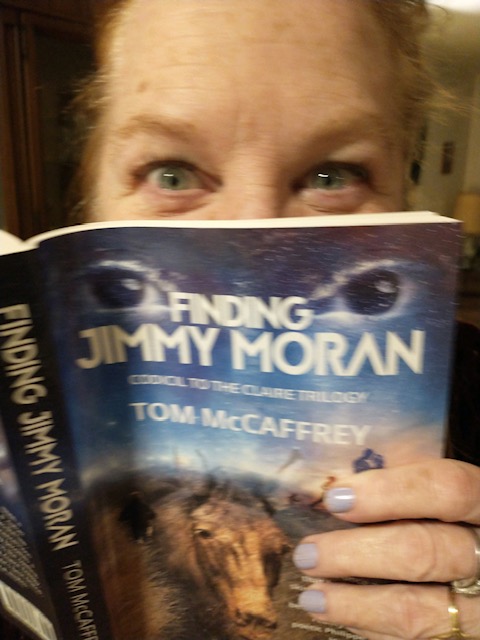 Is that not a maniacal look? Love the variation of the behind the book cover theme.
Thanks Bubbles.
The collection is growing. So if you get your hands on a paperback, send in those photos.
But now I have a kitty to cuddle, rounds to make and torture to absorb.
You fine, five readers leap through this shortened week. Monday was asleep at the switch.
But take care of your responsibilities, and they will take care of you.
Have a great day.