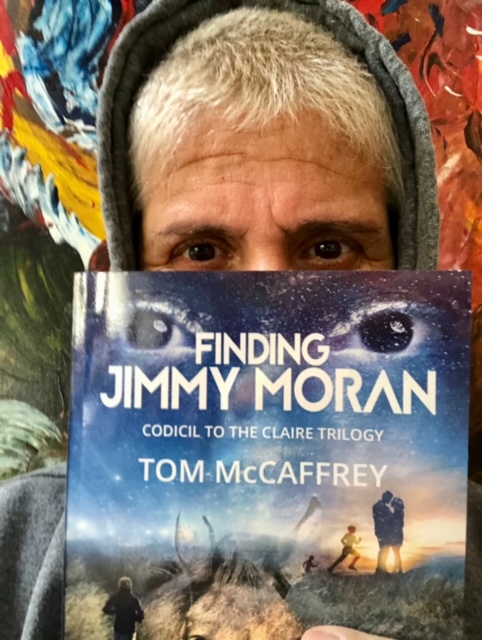 Now, I met Helen Lalousis through my legal work. She was a client of the firm that once employed me. We became friends and then BFFs. Helen has introduced me to most of the psychics I now call friends, like Bobbi Allison (Roell) (also in TCT), Kim Russo and Katherine Glass. All amazing.
Helen and I have shared many adventures together, so it is no surprise that when I was developing characters for TWA, she was the second fictionalized friend brought into the main story after Lenny. I actually worked her Uncle Gus into the story – he is a recurring guest at all of Helen's readings.
Turns out, Helen and I had a crush on the same older female back in the day. Small world. Now there's an "eyes" hint, buried back in the old blogs.
Anyway, Helen is coming out with me to the LA Bookfest, she's my film producer wrangler. And if that wasn't nice enough, the sweet woman sent me a wonderful gift that arrived yesterday.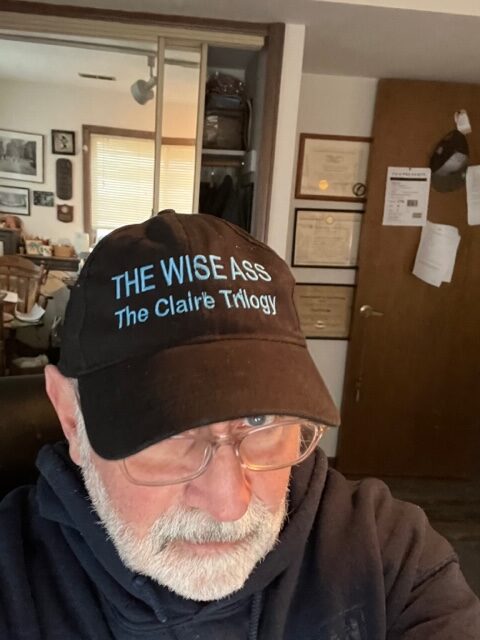 In fact she brought me a bunch of these hats, and I'm going to bring some along to the book fest as a give away for those daring folks who are willing to buy my four books and Christy Cooper-Burnett's Passport to Terror (whose main character, Madison Taylor, makes a crossover appearance in FJM) as a set. First come, first serve, for as long as they last, basis. I'll even get CCB to sign the brim along with me. Whether or not you buy the set, I'll also inscribe any book that is put in front of me, even CCB's books, whether you buy it there or bring it with you. In fact, if you don't have a book, I'll even sign body parts. And, I'm a hugger. So please, stop by booth #60 at the USC campus on April 22-23 [https://events.latimes.com/festivalofbooks/schedule/] and see what all the fuss is about. I'm a lot of things, but I'm not boring. And wait until you meet Christy.
While I'm trotting out these "eyes" photos, I figured I'd show you another member of the OFC, Eileen Cotto (née Collins), who not only makes her appearance as the special delivery vet in KMAG, but also was the basis for the character that runs a raucious NYE party in FJM. We go way back. And yes, she's rumored to have broken many body parts in her day. There's a whisper at the plumber's union hall that she still does.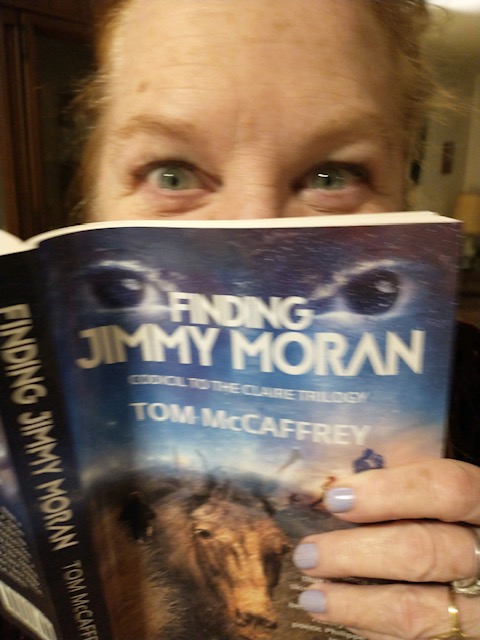 You can see the madness in her eyes.
Since I'm on the topic of characters that have found their way into FJM, let me introduce another, Anna Hillman. I was introduced to Anna through Helen. Anna read the trilogy and demonstrated a real understanding of the characters. She volunteered to join the inner circle of readers when I was writing FJM. So, I included her as a college counselor character towards the end. Thanks for the counsel, Anna.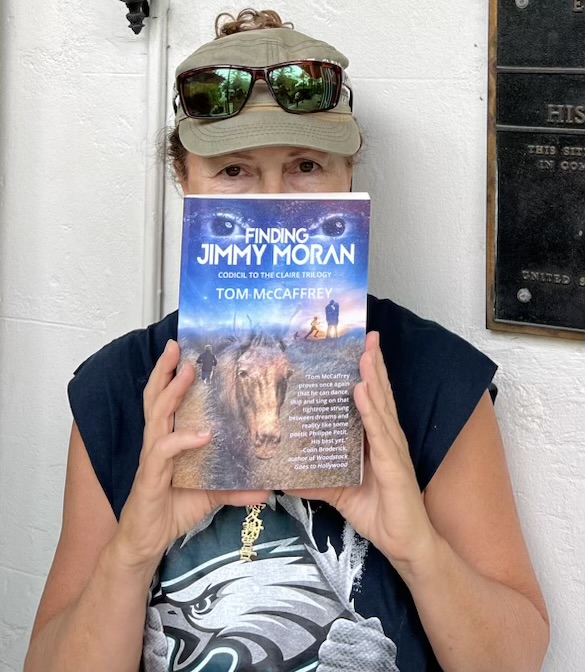 Anna also got all of the books blessed by Hemingway's ghost at Key West.
Since I'm making connections, one of the Collins family's childhood friends named Yvette (now) Benson, also volunteered to join the inner circle when I was writing FJM. Like Anna and Eileen, Yvette put a lot of time into horsewhipping me into getting FJM down in some rudimentary form of the English language. (And I usually have to pay extra for horsewhipping)

So I rewarded Yvette by naming a character after her – the hot Latina who dances with Apples at the NYE party.
Well I have to stretch out my photo cache for just over another week, so I better cut it off here.
There have been a few attempts to guess the real person behind the fictional eyes that appear on the cover, but no winners. This may be one of those secrets I take to my grave. Oh well. I promise that if any of my psychic friends outlive me, I'll come back and tell them.
Well, I've got another snowy day in April, my kitty needs an extra cuddle and my non-human friends await me on my rounds. Then the dreadmill.
So, with Monday safely in the rearview mirror, you fine, five readers get on with your Tuesday.
And make today a great one.