Last night, this morning, was the apex of this month's new moon. A time of new beginnings.
Turns out that Neil Desouza, the son of one of my dear Twitter friends, the wonderful writer Ivy Logan, author of The Breach Chronicles – highly recommend –
https://www.amazon.com/gp/product/B07T7ZZ6S8?ref_=dbs_m_mng_rwt_calw_tkin_0&storeType=ebooks&qid=1676974884&sr=1-4
https://www.amazon.com/gp/product/B0BKQHPHQS?ref_=dbs_m_mng_rwt_calw_tkin_1&storeType=ebooks&qid=1676974884&sr=1-4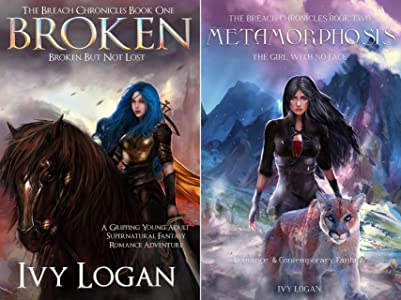 is having a birthday today. Starting a new year of life. Neil has voraciously read The Claire Trilogy and I believe he is now making his way through his mother's copy of Finding Jimmy Moran.
Given that I am dying to crack the younger demographic, I cannot tell you how thrilled I was to hear, through Ivy, that Neil enjoyed TCT. Thank you Neil. I hope you enjoy FJM.
Happy Birthday Neil Desouza, and may all of your birthday wishes come true.
Better yet, may all of your mother's birthday wishes for you come true. Mothers play the long game.
Speaking of new projects, BRW sent Christy Cooper Burnett and me our overhead banner for the LA Bookfest. It looks so cool.

Thank you Reagan Rothe and Christopher Miller for making that happen. So if any of you fine, five readers find yourselves in LA by the USC campus on April 22-23, look for this banner above Booth 60 and stop by and say hello. https://festivalofbooks.usc.edu/
Did I mention young Jimmy Moran and Madison Taylor, the time-traveling lead character from Christy's incredible book, A Passport To Terror (it's got Jack The Ripper), meet up in a cross-over chapter in Finding Jimmy Moran. First time I ever heard of two authors collaborating in a character cross-over. I highly recommend that you read PPTT now, so you can fully appreciate that cross-over. Maddy is a great character and PPTT is a very cool book. So jealous when I read it. Come by and buy copies of either/both of those two books – or bring copies you already have – and we'll both sign each of them for you. Instant collectible. We'll even do hugs and selfies.
I appreciate the support you fine, five readers continue to show The Claire Trilogy. You've kept the three books sitting in the top 10 in the Amazon Dark Comedy category, and this morning they appeared together in the top 5: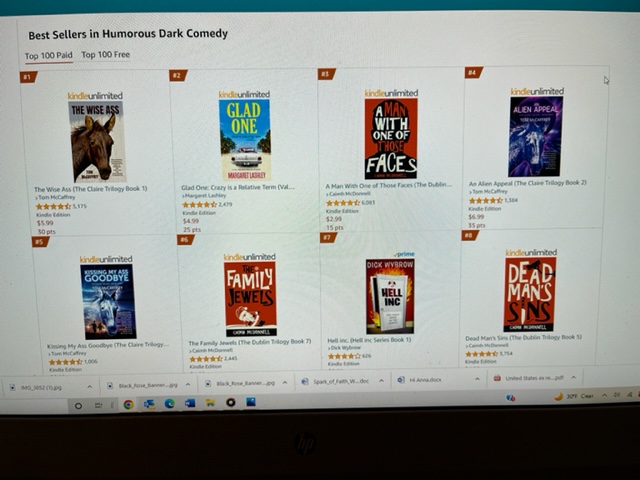 I am forever in your individual and collective debt. Bring any and all copies of any one or all of TCT with you to the LA Bookfest and I will inscribe them for you. Thank you all for getting TCT to this point.
Claire is thrilled. Honey is run off her feet answering calls and responding to fan mail.
I am burning those New Moon candles above with the intention of making CCB and my weekend at the LA Book Fest a major success.
So stop by and watch it happen.
You Hollywood types know where to find me.
But there are miles to go before we get there.
That means I must start my day.
But first a kitty cuddle, my rounds and the infernal treadmill.
You fine, five readers embrace Tuesday, if for no other reason than it is not Monday.
And make today a great one.