I talk a lot about my hometown of Riverdale (Da Bronx) in these blogs and in my books. It's a magical place.
One of the large Irish families that grew up during my time there were the Careys. There were ten of them. Given that the Irish in a locality seem to collectively breed in cycles, there was a good chance there was a Carey in your class growing up.
Johnny Carey was my age and my friend. Of course if we stood next to each other you would think he's much older 😉
One of Johnny's little sisters was named Maureen. That's her and Johnny in the above photo.
Everyone in Riverdale called Maureen "Whitey." I think it had to do with the light blond color of her hair.
Whitey had this great "whiskey" voice, deep and a little hoarse. She also had a great sense of humor.
She was a New York Giants and Yankees fan. She loved Superbowl betting pools.
Whitey passed on Wednesday night after a tough battle with cancer. She was surrounded by her family and a few of her close friends. She didn't go out without a fight. If you knew Whitey five minutes you would have expected nothing less.
Whitey's siblings are Jimmy, Johnny, Peggy, Joseph, Theresa, Stephen , Michael and Colleen. She was predeceased by her youngest sister Kerry Ann, who tragically passed in an accident years ago. I know the older Careys down as far as Whitey pretty well. We all swam on the RNH swimteam together and spent our summers in each other's shit the way Irish families tended to do. I knew the younger ones as cute fungible little micks that always seemed to be running around the RNH pool. Cute kids.
I got to know Whitey again a little better when she was running the North Riverdale Baseball League. My kids all played ball during her tenure. She was a tyrant, but a benevolent one, and a lot of fun to deal with. She did a great job. She called me Tommy. That made her family.
Whitey grew up and married Billy Kelly. When her husband died at a relatively young age, Whitey raised their two children, Billy and Shannon, into fine adults. That's young Billy, Whitey and Shannon, below.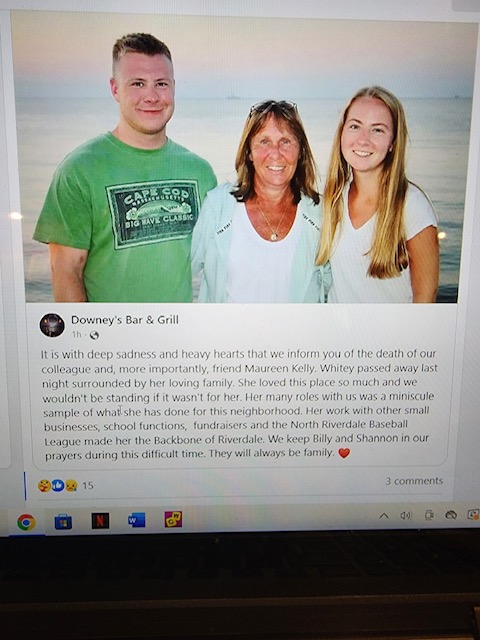 Whitey was like that. She didn't let life beat her. Right up to her last breath.
Whitey will be waked at Riverdale on Hudson funeral parlor on Monday the 23rd between 2 and 7 in the afternoon. I would recommend getting there early because its going to be a packed house. The mass will be at St. Margarets on Tuesday morning at 9:45 am. Don't get there late unless you want to stand. Whitey's internment will be at Gate of Heaven Cemetery in Westchester, where 90% of the Irish families in Riverdale, including all of the McCaffreys, are laid to rest. Whitey will be among some great company and probably be running the place in about a week.
Riverdale loves you Whitey. Keep an eye out for everybody.
Now that PSA was an absolute tragedy to learn about, and an absolute honor to perform.
So you fine, five readers, if you are Riverdalians, stop in and pay your respects at the wake, funeral and/or cemetery. If you are not, just say a little prayer.
I've lit a candle.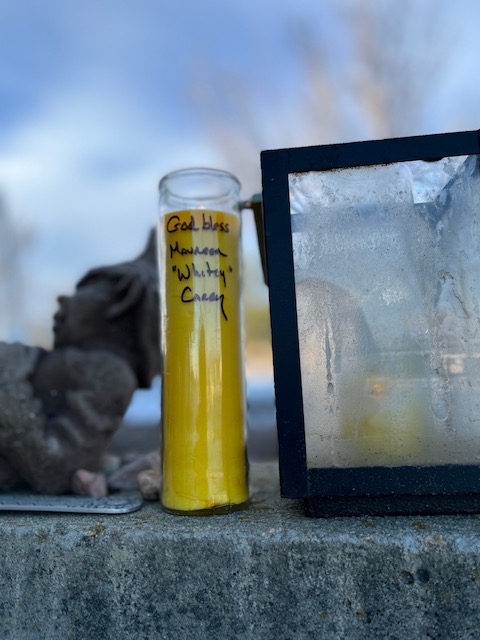 Now I need to cuddle a kitty, make my very cold rounds, and torture myself.
Then finish up a legal brief.
TGIF.
You fine, five readers, go out there and have a great day.
So long, Whitey. See ya on the other side (unless Dante is right, in which case, you pray for me).