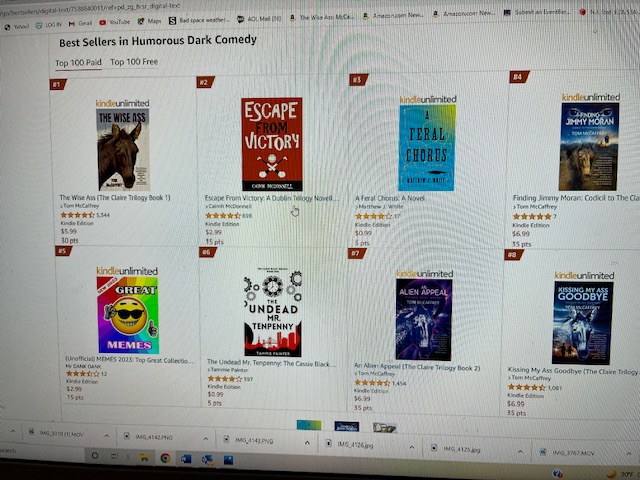 You ever have this happen? You sign on for something that seems so far away, you lose that sense of time perspective. And then one day, BAM. You look at the calender and realize it's next weekend.
I just had that moment. Luckily, I have my flight and hotel booked. And my trusty BFF Helen LaLousis (yes, the same as in TCT), will be landing at LAX within an hour of me and has rented a car for both of us. Helen and I are intent to wrangle in a slew of Hollywood producers and create a bidding war for the Claire properties while we are out there. Go big or go home. Thank you Helen.
[Note to Hollywood producers. Please wear clothing identifying you as such so we can wrangle you. Thanks in advance. Gee, I hope you are women.]
And, on top of that, one of my other besties, Christy Cooper Burnett – https://christycooperburnettbooks.com/
whose writing is so brilliant I was compelled to steal one of her characters – Madison Taylor from Passport To Terror (you must read this if you are going to fully appreciate FJM) – and put MT as a cross-over character in Finding Jimmy Moran – has set up everything else at the LA Bookfest – https://events.latimes.com/festivalofbooks/. Thank you Christy.
I will be the first to admit that I would be absolutely lost if the women of this world did not feel sorry for me and constantly cover my ass.
Even my darling wife, Lisa, is covering for me at home and handling taking care of Claire and Honey in my absense (but she won't shovel shit). Thank you sweetie. Love you.
Indeed, I would have never written any of the books without the strong women that keep appearing in my life at just the right time to keep me from driving off a cliff. First it was my grandmothers, then my mother, then my sister. Of course Lisa has kept me (many times) from ending in complete disaster. Literally.
My favorite psychic are all women – Bobbi A, Kim R and Katherine Glass. Thank you ladies.
And my inner circle of readers are all women. Anna H, Eileen C, Yvette B, Anne R and for the next one Renee C. I trust their counsel. They call out my bullshit. Thank you ladies.
I love women. They are smart, tough, fun, detailed-oriented, great under pressure, optimistic, nice to look at, and, as long as I keep them laughing, they put up with me. I have many women friends. Platonic, of course.
Indeed, I am a hit with the sapphist crowd. I really get them. And they, me. They well populate my books.
Based upon the reviews, about 90% of my readers are women. Women read. I'll bet all five of my blog readers today are women.
Most women quickly recognize that I am almost helpless as a human being and since they are hard-wired to be nurturing – except my daughter Jackie, who is absolutely ruthless – well done sweetie – they usually make sure I survive each day. So, women of the world, I thank you. Sincerely, it's been an absolute pleasure for me.
A shrink would probably opine that this explains why my books are chock-full of bad ass women. Helen, Bobbi, Michelle, Eileen, Gina, Petrichor, Dr. Nim and Stella. The muse does a great job in FJM. Even Claire, right to the end. They all look out for Jimmy Moran. They keep him alive. Luckily, the Irish cannot be psychoanalyzed.
So, next weekend, I will depend on Helen, Christy and Lisa to continue the pattern of my success, or I will no doubt be found wandering, incoherent and lost on the streets of LA, asking strangers if they want me to sign body parts. If that happens and one of you LA women spot me, please point me in the direction of the University of Southern California, booth 60. And, if you like, I will sign any body part you desire. Platonically, of course. I'll even sign a book if you have one handy. Christy is making sure my books arrive at the table in time.
At least I'm heading west with the literary wind in my sails. Thank you all for making that happen. Keep telling your friends about my books. Especially the women. They read. I greatly appreciate it.
Well, now I need to get my shit together and take care of the outdoor chores.
First a kitty cuddle, my rounds and the dreadmill.
Please, you fine, five readers, find some time today and put your feet up.
Read a book.
But most of all, make today a great one.