Given that I've come to the writing gig rather late in life, I'm still processing a lot of "firsts."
Yesterday was another one. The maintenance light and message was flashing in my Toyota (yes, the one from TCT) for the past week, and given that the weather here has been iffy at best, I decided on Tuesday evening I better get it in for its physical before the end of the year. Now I had just run out on my extended-extended-extended Toyota maintenance package, so I needed to find a local shop. I had brought my wife's Acura into Main Street Car Care in Berthoud not too long ago, and they had done a wonderful job, so I thought I would bring the Toyota in as well. Shop local.
So I called Tuesday evening and spoke with the proprietor, Larry, to see if he could squeeze me in before the New Year. Voila, he had a 8:30 opening Wednesday morning.
Now the first amazing thing that happened was that while I was sitting in the waiting room, the only other person there was a man who turned out had grown up in Riverdale – I shit you not. Small fucking world.
Now if that was not amazing enough to end the year on, no sooner had I finished opening and reading the last minute Christmas cards I had grabbed from the mailbox on the way into town, when Larry comes out and says "Your car's ready!"
I was prepared to spend a few hours there at least, so this was another pleasant surprise.
But wait.
As I was completing the payment paperwork, first signing the credit card receipt, and then a copy of the work order, I was about to return the pen to its cup on the front desk, when Larry says,
"There's just one more thing I need you to sign. . . ."
And like a magician, he produced a spanking new copy of TWA from beneath some paperwork on his desk.
Now, I have signed quite a few copies of my books over the past couple of years, but they were always part of some expected event, like a book reading or book fair, or when I send out author's copies to people that are in the books or have helped me edit them. And I am always thrilled to do it, because I owe it to anyone who ponies up their hard earned money to read something I wrote – or to engage in my journey of writing them – to thank them personally on the inside front cover. But I have never been pleasantly surprised like yesterday.
I had not mentioned to Larry that I was a writer. And I have not reached the level of recognition where someone else would have mentioned it to him. Most locals just think of me as the crazy guy from the Bronx.
Larry had purchased the book on his own without knowing I would be stopping in there, and had to have received it before I even scheduled the service. This was just a serendipitous convergence of reader and writer. And I loved that. Thank's Larry for the local support. BTW he is great with the cars as well.
But the day got better.
One of the items in the mail I was sifting through at Larry's service station was the book, You Know What I Think, incribed to Lonnie Bell at MOS by its Canadian Author, Stefanie Barnfather. (I already have the Kindle version – this young lady can write).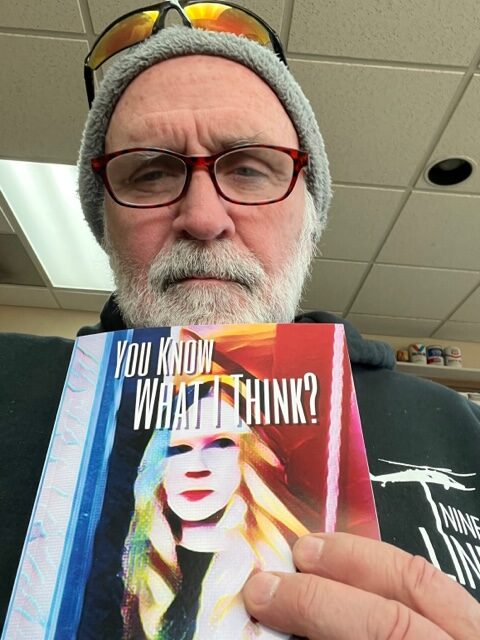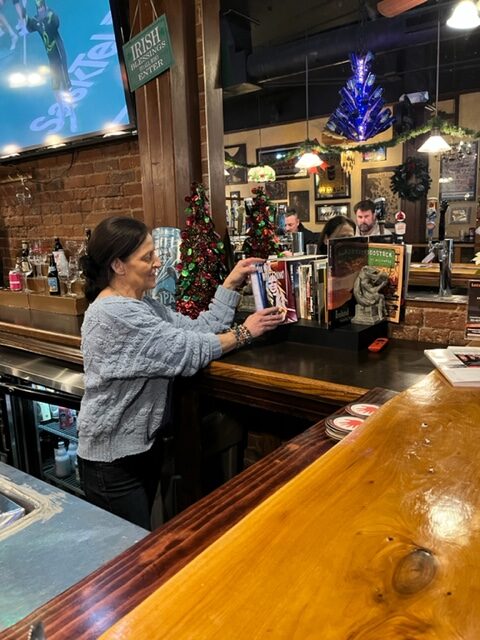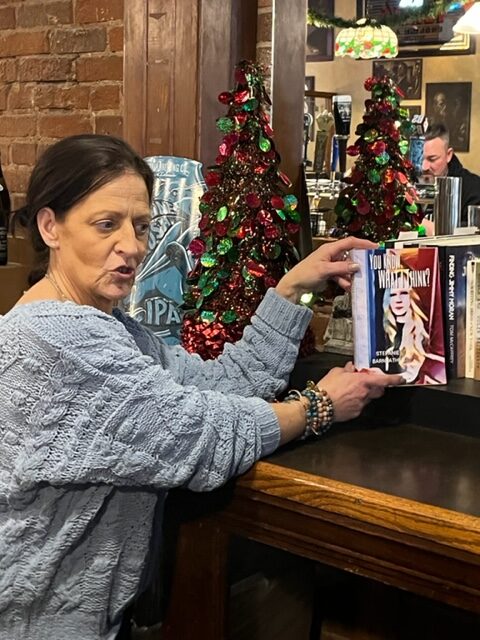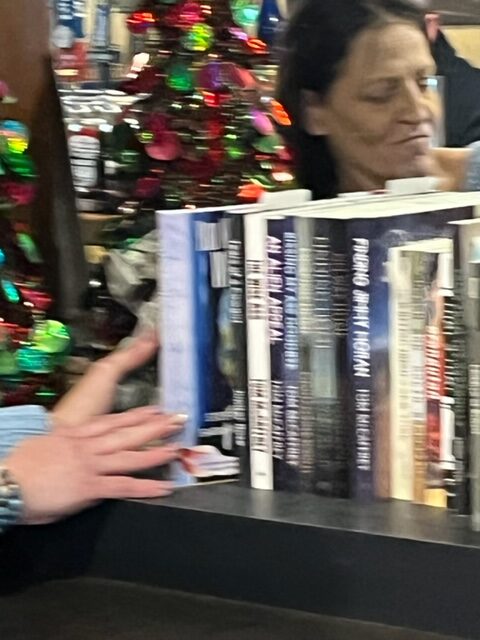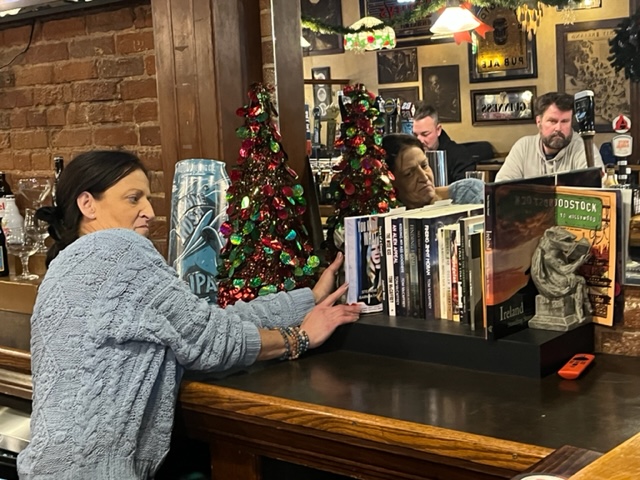 Thank you Stefani. Thank you Jen. Thank you Lonnie.
Now if any of you other writers out there would like to contribute to the MOS Bookshelf – NoCo's answer to Paris's Shakespeare & Co or Key West's Sloppy Joe's – please inscribe the front cover of your work(s) to Lonnie Bell and send it/them in: https://mikeoshays.com/
Lonnie promises to expand the bookshelf, as necessary.
Well, that was enough excitement for the day, but overnight about four inches of snow fell on Casa Claire.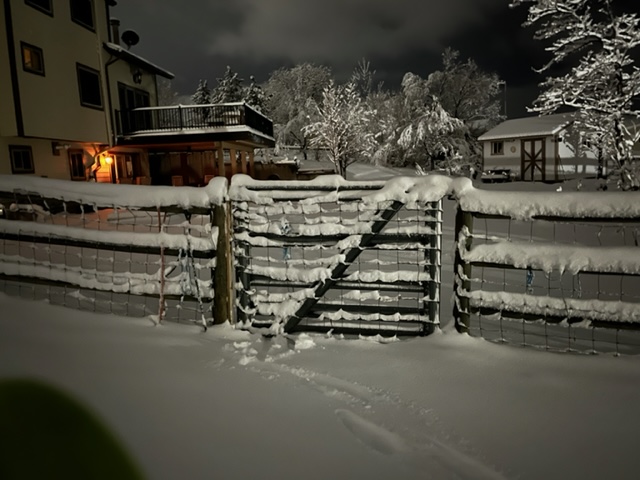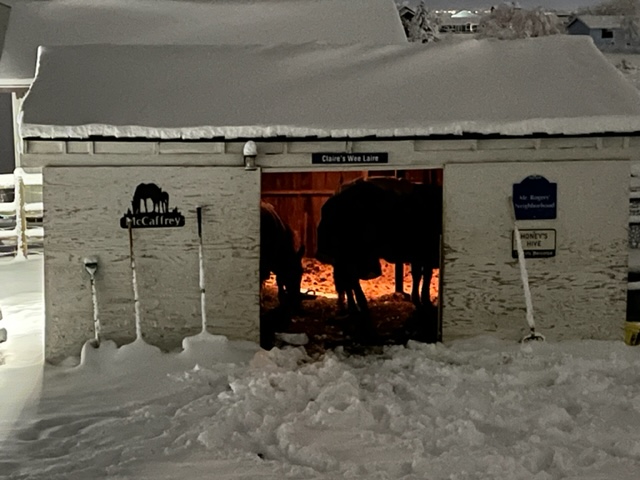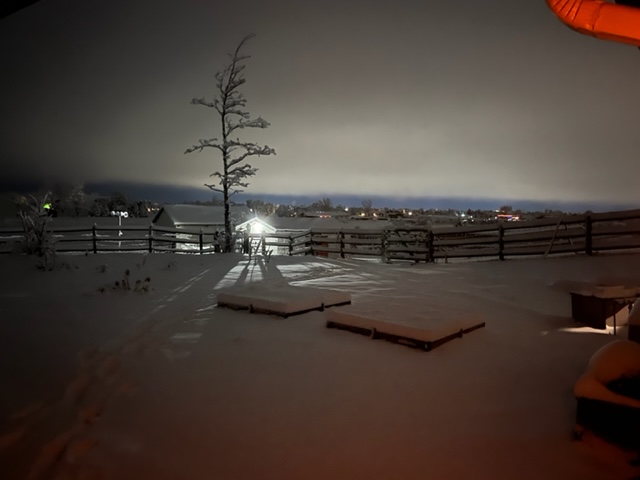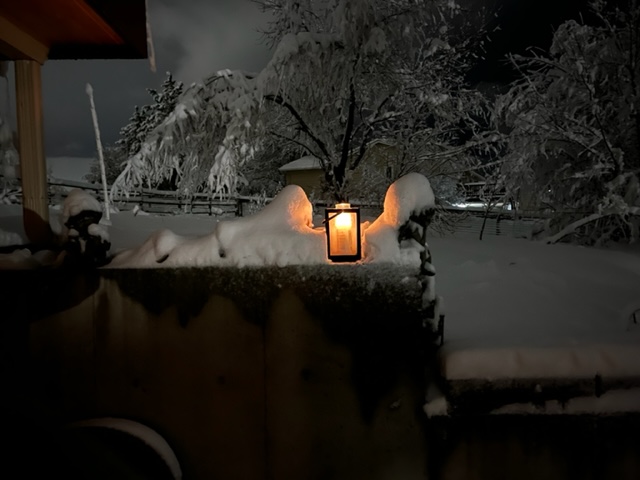 And when I went out to feed Claire and Honey, there was no wind and it was not bitter cold. The snow had blanketed the property and it was just wonderful to be able to take a few moments to appreciate its beauty.
My mules were happy to have their breakfast in the barn.
I am the luckiest guy in the world.
Anyway, it's the last Thursday of the year, so take a moment to appreciate how Thursday often gets to play clean-up for the work week, to free up Friday for the anticipation and excitement that the weekend has arrived. Thank Thursday and take care of whatever needs to be done. It's a big weekend ahead.
I'm going to go give Smokey a cuddle, complete my rounds and then some torture.
Better get my boots on.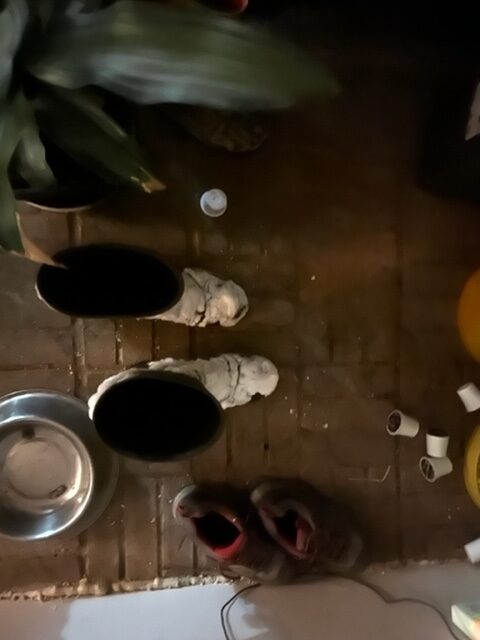 You fine, five readers get on it. Wrap up 2022 with a big bow today so you can enjoy the weekend in style.
And most of all, make today a great one.