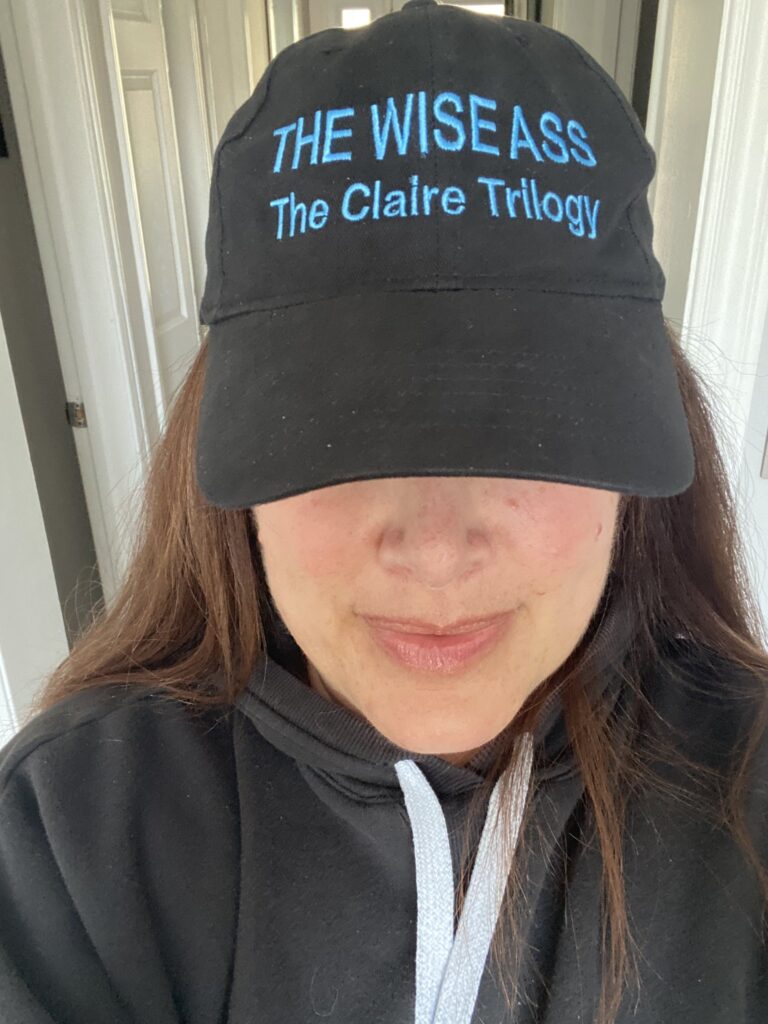 That cute chin and grin under that very cool hat belongs to Sheila E. Young, a Celtic (Bad Ass) Princess writer from Canada, whose book, Mac, is excellent. I highly recommend it.
I met Sheila and a lot of other wonderful writers on Twitter at some point over the past 18 months. When I was first attempting to create a social media presence, when TWA was about to be published, I took the dormant Twitter account I had accidently opened in 2011 (I was feeling adventurous that year for a split second) and joined what was identified as a Writers Group. For the first year I fumbled my way around trying to figure out who was who while never quite mastering the system. Like every other social group there are cliques and hierarchies. It was kind of hard to get noticed when you are competing with writers who have amassed tens of thousands of followers. I get it, you can't be all things to all people. To date, I have accumulated just 2663. A few more followers than followed. Sigh.
But what I lack in quantity, I've made up for in quality. My Twitter connections are off the hook. They are from all over the world. I've never met a nicer group of people that I haven't spent time growing up with. But I feel like I know some of them as if I did.
And I found this group surfing their postings and looking for those writers who demonstrated a certain cleverness in their writing. People who could make me laugh. Those with a sense of observational humor. Some had that air of hustle about them. Some a natural bravado. And some were, like me, newbies, without a lot of popularity or on-line connections.
And after a while, if I thought they were really clever, I would buy the kindle version of their book, and if I could steal some time from somewhere else, I would read their books and post a review. This process has expanded my reading palate.
Not all of the genres or writing styles were for me, but if they wrote well and told me a good story, they got a great review. Because it's not about me or my preferences or prejudices, it's about the writer and their story. You don't have to be perfect. If you've kept me reading, and, when it was over, I felt like I have been taken on a journey, then it was a win for me.
I see a lot of writers out there who will hand out a 4 star (or worse) rating out of some affectation of principle or superiority. Like the pony-tailed douche in Good Will Hunting. I'm amazed because when I later check out their book(s) on Goodreads, they'll have a handful of mediocre reviews and will never have charted. It reminded me of a professor I had in college who told us the first day of class that he never handed out As. He went to Harvard, this was City College. That B kept me from graduating Summa Cum Laude by a few tenths of a point. But he was a superior man of principle.
I learned how to tell a story in City College.
There are a lot of photographers and other artists in the group. There's even a few singers. There are also a lot of people who like to read or otherwise be entertained, and they are wonderful and fun. If you are a creative or appreciate creativity you are welcome.
Books and films, painting, photography, dance and music are entertainment. Plain and simple. IMHO, not one of the disciplines offers perfection. But I can sense the beauty and passion in the good offerings. And that's just fine.
My books certainly aren't perfect. I'm the Slip Mahoney of writers. I can butcher spelling, grammar and language with the best of them. But I tell a good story. I'll make you laugh. I'll make you cry. I'll take you on an adventure.
So, after a while, a number of us just jelled, and we make an effort to say hello to one another at some point each day and get to know each other a little bit better than the general populace. And that's been nice. They are my friends. Some have even risen to the level of confidant. You always need someone left around to tell your story once your gone.
Which takes me back to Sheila above. Sheila is going on a vacation to Ireland. When she learned that Bushmills Whisky featured prominently in one of my chapters to Finding Jimmy Moran, she offered to take a copy of the book with her for a photo op at the distillery. So I sent her an inscribed copy of the book, with one of my hats. Hence the photo. Sheila sacrificed putting a gorgeous set of eyes in the shot in order to get the advertising in the frame. That's taking one for the team. I'm hoping the eyes make an appearance in the Bushmills photo.
The photo is a big favor for me. I won't be getting there anytime soon. But that's what friends do. Thanks Sheila.
None of us may ever rise to any real literary prominence, like Twain, Fitzgerald, Wolfe (Ginny & Tom) or Steinbeck, but I'm not ruling it out. There are a lot of very talented people in the group. I'm proud to consider each one of them a friend. I'm rooting for them all.
Okay, so it's Friday and the work day awaits.
But first a kitty cuddle, my rounds and the dreadmill.
You fine, five readers get out there and do whatever it takes to shorten your work day. Then finalize whatever plans you have for the weekend.
But whatever you do, make today a great one.