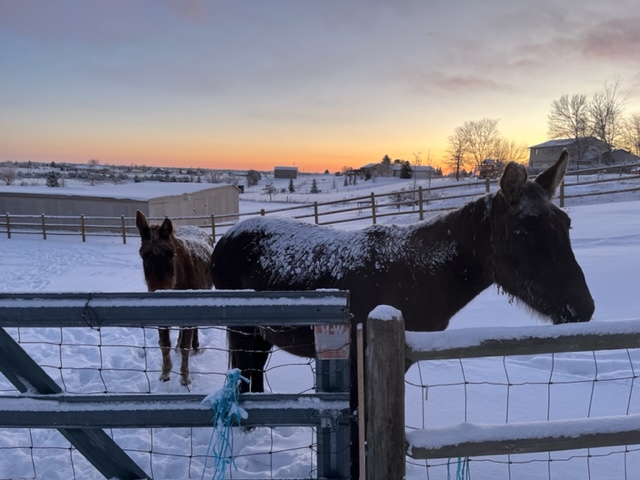 I noticed that they were walking like little kids (or BC) in their mom's FMPs.
I snapped some photos of their feet.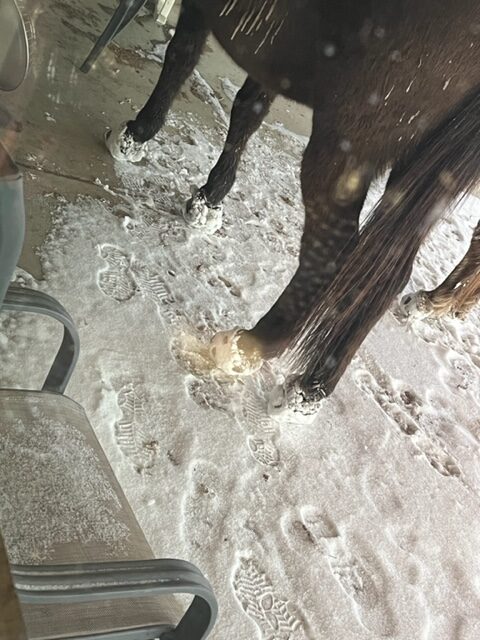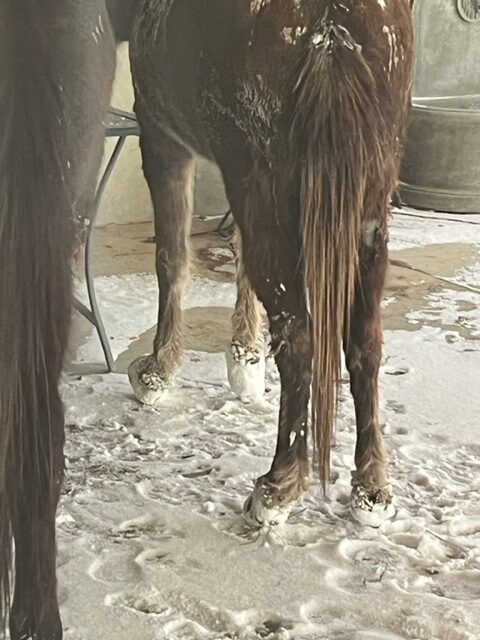 I had never seen such large ice balls under their hooves. So I went upstairs and woke Lisa. Once she saw the photos she was dressed and outside helping me get them into the side corral.
I went down first and tied the back gate to the fence posts, and then Lisa and I corraled the mules in the side paddock.  After a good 20 minutes of ringoliveo – fingers and toes suffering from the cold through gloves and boots — we trapped them behind the barn and Lisa got Honey haltered.  Then I was able to halter Claire.  We tied them to the rail and I went back to the house and got a metal brush and their coats.  If they had seen their coats before hand, they would never have allowed themselves to be captured.
After we brushed/scraped the ice and snow off and got their coats on them, I chipped off the ice from Honeys hooves. Easy enough, but they were huge. However, when I went to chip the ice off Caire's second back hoof she sat on me.  Pinned my left thigh under the giant ass's ass. Luckily the snow below us absorbed some of the pressure. I think the deep freeze also numbed the pain. And once Claire looked back over her shoulder to see what was wriggling below her and realized that my contorted face and bulging eyes – I was afraid if I screamed it would spook the mules – meant she should probably stand back up, she did.
Brand new Green Acres experience for me. Lisa was so busy on the opposite side of Claire soothing Honey that she didn't notice what was going on behind her.  
All's well that ends well – Claire and Honey are back in their coats.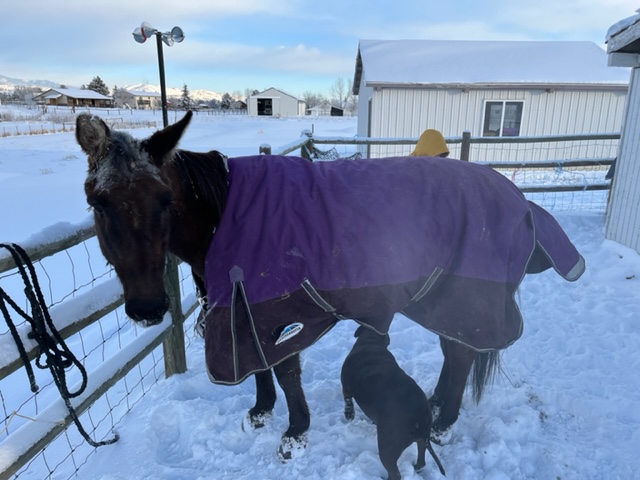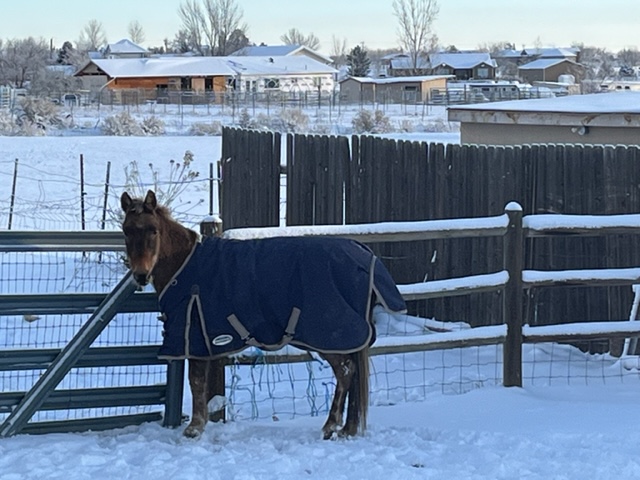 Lisa, demonstrating her Florence Nightengale sourced nurse's compassion, and displaying her honest concern for her husband's well being, went right back to bed.  I don't blame her. The important job was done and she had a three day weekend of work ahead of her. And she answered the call when I needed her.
I now have one hell of a Charlie Mule in my left thigh.  And I might have pulled some abdominal muscles trying to get out from under that ass – interesting use of words together in a sentence. No treadmill after that.  Maybe today, I'll see how it feels.
But I feel so relieved to have my mule fur family back in their coats, and thrilled that they are not walking on ice balls. Especially mine.
Speaking of which, yesterday the OFC, as is their way, sought to console me with the suggestion that frozen balls are better than blue ones.
The jury is still out.
Another cold day awaits, but we may warm up to freezing with any luck.
It was -1F this morning when I went out to feed them. They looked comfortable enough. So, I am happy.
I was warmed to learn that TWA was back on top this morning. With the other two of the trilogy still top 10. Let's see how it goes. Everyone loves a comeback.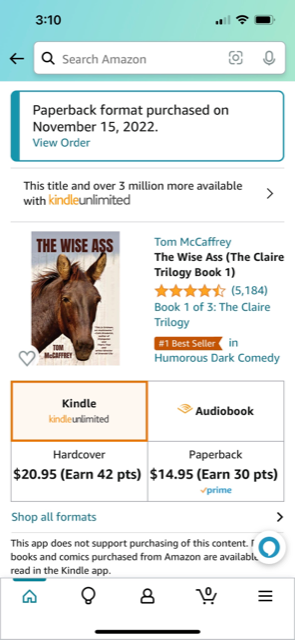 Ah, Friday. TGIF. But I have a legal brief to complete.
First I must cuddle a kitty, do my rounds. Maybe the treadmill.
You fine, five readers stay warm. Everything beyond that will sort itself out.
And most of all, make today a great one.