Anyone who is a parent of more than one child, will say, and mean, that they love all of their children equally. Because we do.
But your role as a parent is to nurture each child and get them up on their feet so they can stand on their own and compete in the world.
Your first born often sets the pace. You make most of your mistakes with that one. If you get it right, the first born will carve the path that will make the process easier on its younger siblings.
And it seems easier with the next couple of children. You apply the experience you have now gained and don't worry quite as much.
And if you get that right, the older kids start to look out for their younger siblings.
You watch them all go through their "firsts." Some good, some bad. And you are always happy they survive them.
But you are always worried about the baby in the family.
I mean, the baby now has to meet not only your expectations, based upon how the older children are doing, but also compete with the accomplishments of their older siblings. You hold your breath and cheer them on. And hope for the best.
Now that my own children are grown and successful, I get to turn my paternal neurosis upon my second family. My books.
And just like my biological children, the first is an over achiever.
My oldest child, Luke, is already a published author, and is still a young man..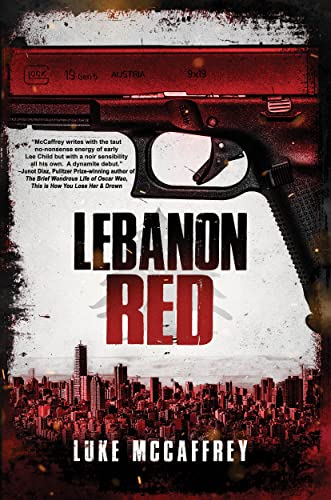 Matthew 3:17. He has married an Australian model, and they have produced three beautiful grandaughters – Scarlett, Savanna and Stella. He was a proud member of the Denver Fire Department, until he moved with his wife and family back to her home in Oz.
My first novel, The Wise Ass, has also been an overachiever. It has hit the #1 spot in Amazon Dark Humour numerous times since it was first published back in February 2021, and sits in the top 10 most of the time.
My next two children, Jaclyn and Mark, have also made it in their respective fields of business and law enforcement. I am thrilled for both of them. Oddly enough, I didn't worry about them as much as their older sibling. It just seemed easier.
But don't get me wrong, when my second, Jackie, was the baby, my wife and I worried like all hell when she insisted on following her older brother into the martial arts and later into various athletics, where she excelled, and ultimately played on the D1 level in college.
https://njithighlanders.com/sports/womens-basketball/roster/jackie-mccaffrey/2004
She now is now killing it in the business world. She's going to be the CEO of a fortune 100 company some day. And she is a great mom to my grandson, Lucian.
When Mark, my youngest. came along, it was almost too easy. He was the charmer, the funny kid, who also excelled like his siblings in academics and athletics, playing College baseball. He then went into service as a first responder in the toughest city in the world.
And he made his mark there too.
https://www.nydailynews.com/new-york/nyc-crime/ny-metro-fender-bender-hostages-20181002-story.html
"Officer Mark McCaffrey did the superhero work in scrambling up eight stories to arrest suspect Francisco Jimenez after cops laid a trap for the would-be kidnapper and his pal Rondell Halley. Jimenez, 24, proved no match for the young, athletic cop once he tried to flee via the fire escape on W. 72nd St."
He and his lovely wife Sara (nee Moran – Her dad is the real Jimmy Moran), is also NYPD Blue. Mark and Sara have a side business stewarding the precious bees, and selling their delicious honey. Check it out.
https://jaxandcobees.com/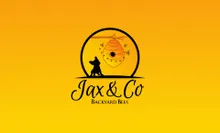 But I held my breath for the baby of the family, until he made his way into the world.
Similarly, over the last two years, my next two books, An Alien Appeal and Kissing My Ass Goodbye, have been published and followed TWA into the marketplace and also done well, both hitting number 1 in the same category and always hanging around in the top twenty.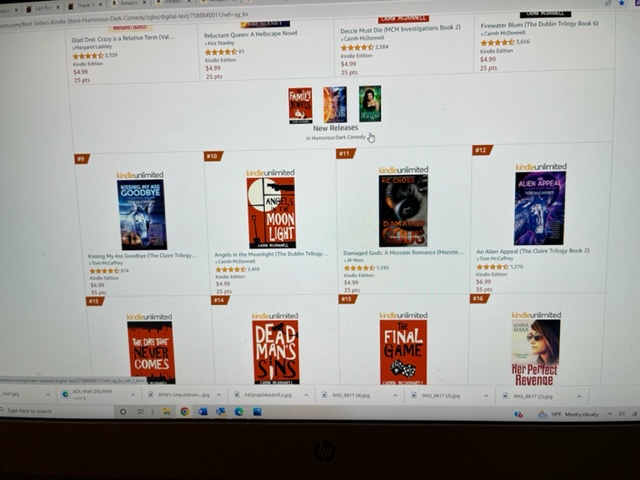 They always stay within sight of their older sibling. There is protection in that.
Now my anxiety is free to focus on my latest baby, my newest novel, Finding Jimmy Moran.
Like the others, I gave FJM my best creative shot. But you never know how its going to work out for them until they go out into the world to be judged by strangers who don't have the same familial bias and love for them as I do. You wait for that first test and hope for the best.
This morning I got to take a breath.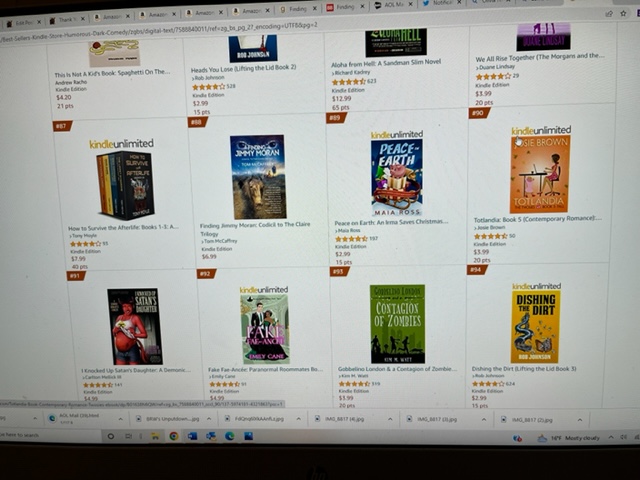 Finding Jimmy Moran has joined its siblings on the Amazon top 100 ranking page for Dark Humor.
Not too bad a start.
And given the fact that most Irishmen like their humor, like their coffee, dark, I couldn't be prouder of my youngest creation.
So thank you all five of my fine readers for supporting my literary brood, including my youngest. I greatly appreciate it. I know my success is down to you.
And on top of everything, today is magical Friday.
So, you fine, five readers go take care of business and get out there and enjoy the weekend.
I need to first take care of kitty cuddling, my rounds and my torture.
You all have a great day.