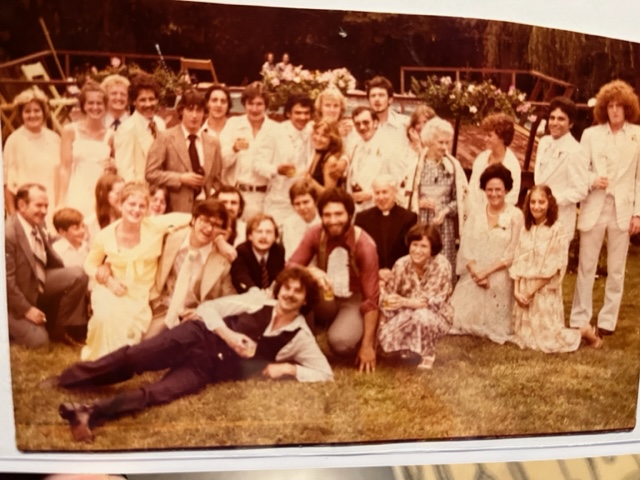 Motley Crew Indeed.
Came across this old photo of most of the Riverdale friends and family that made the trip to Jamestown, NY, in July 1978 to attend Lisa and my wedding.
Most of them ended up as the basis for characters in Finding Jimmy Moran.
Not everyone who made the trip made it into the photo.
And some important people couldn't make the trip or were not around to do so.
You weren't forgotten. I know your were there in spirit, some figuratively and some literally.
For those that got there, starting back row, left to right:
Florence "Momma C" Collins, Theresa Collins, Pete McCarroll, Ralph Droz, Matty Burke, John Hughes, Mike Augustyni, Joe Serrano, Linda Behan, Ed "MacDootz" McCarroll, Jimmy "Apples" McEntee, Eddie McCaffrey, Mary Moran, Posie, Tara Sullivan, Octavio Narvaez, The Ginger.
Kneeling, left to right:
My Dad, Billy Collins, Jeannie Collins, Mary Collins, Michael Collins, Maurice "Moose" McGrath, Me. Tommy McQuillen, BC, Billy Dinome, Fr. Frank Nugent, Veronica, My Mom, Chrissy Tardibouno.
Lying down: Mark "Lenny" Lenahan.
Great group to grow up with. Lots of fun.
Early Bronx version of a destination wedding. People had to drive over 8 hours to get there.
Meant a lot that they all chose to show up. None of us had a pot to piss in, so it required sacrifice to make that trip.
Hell of a weekend. Drank a lot. Destroyed a hotel.
When we were all checking out, Moose told the man behind the desk how much he enjoyed his stay, and then said, "I'm going to recommend this place to my friends."
To which the clerk nervously replied, "Please don't!"
Anyway, I'd like to take a moment to thank all of these folks, both here and in heaven, for making that trip.
And for being my friends & family. Meant a lot.
Which is why most of your characters made it into the book.
Okay, time to cuddle the kitty, make my rounds and hit that dreadmill.
You fine, five readers go take the hump.
Interpret that line anyway you want.
But whatever you do, make today a great one.
And try to remember it.