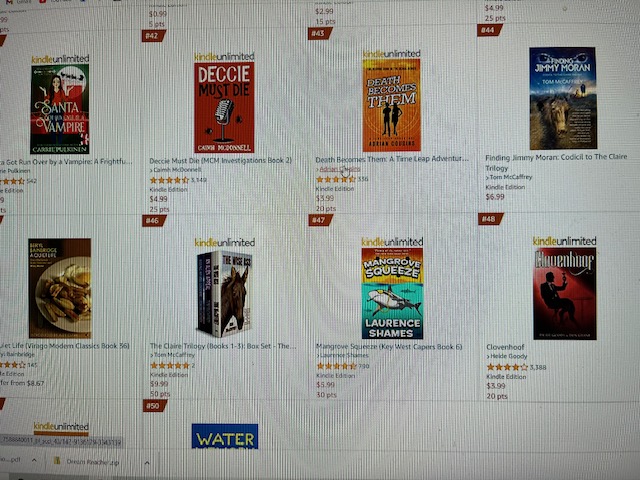 Okay, the planets are aligning and FJM has dropped back into the top 50, with 2 days to go before its release. The writer side of me is absolutely thrilled. Of course, the marketer side of me keeps niggling at the back of my mind – what else can I do to give this a push?
What's an Old Dog to do?
It's times like this where I wish I had the charm of Uncle Billy Mack from Love Actually – my favorite Christmas Movie. That character knew how to push a sale:
"Billy Mack : But wouldn't it be great if Number One this Christmas wasn't some smug teenager, but an old ex-heroin addict searching for a comeback at any price? . . . So if you believe in Father Christmas, children, like your Uncle Billy does, buy my festering turd of a record. . . . https://www.youtube.com/watch?v=aXMF1enKjjo
Indeed, I just discovered an x-rated scene that was deleted from the movie. Awesome. Check it out.
https://www.express.co.uk/entertainment/films/1373296/love-actually-news-christmas-film-bill-nighy-sex-act-deleted-scene-richard-curtis-uk-spt
I actually saw BN in a wonderful drama on B-Way before I left NYC. Skylight. He really is a brilliant actor. https://www.nytimes.com/2015/04/03/theater/review-skylight-with-carey-mulligan-and-bill-nighy-opens-on-broadway.htmlhttps://www.nytimes.com/2015/04/03/theater/review-skylight-with-carey-mulligan-and-bill-nighy-opens-on-broadway.html
I had first row seats and actually left my playbill on the edge of the stage, and there was a scene where he came to the front of the stage and gathered some books that were a prop on the floor and adjusted my playbill into the mix. Interactive theater at its best.
I don't have the looks or that wonderful British accent to pull off the Full Monty scene in exchange for number 1 on opening day. However, I do love BN's style.
What would Jimmy Moran do?
He'd try to break the Internet.
https://www.news18.com/photogallery/movies/kim-kardashian-bares-it-all-diva-looks-super-sexy-as-she-flaunts-her-curves-see-pics-3482810.html
Again, that requires ass-ets that I just don't have.
But maybe there could be a miraculous surge of people all on-line today trying to buy The Claire Trilogy and Finding Jimmy Moran, that would tax the internet at KK levels. Wouldn't that be something?!
Well, it's not Christmas, but I haven't given up on coming up with something just as epic that I would do in exchange for a number 1 opening. So while I ponder the options, I'm throwing open the suggestion box to my fine, five readers. If you have the cajones, drop those suggestions into the comment section below. If you are shy, just drop an email to Tom@thewisenovelist.com. All suggestions will get due consideration, and probably a cheeky response.
Okay, the dawn awaits so I must flee.
A kitty to cuddle, rounds to make and the dreadmill.
It is Tuesday, so the worst is behind us.
Let's get out there and take care of business.
But don't forget those suggestions. Let's see how creative you can be.
And most of all, make today a great one.